After Fighting For Freedom From False Arrest, Sheepshead Man Battles To Keep His Property
John Hockenjos successfully won his freedom after fighting a false arrest in 2011, but he remains mired in a legal battle that threatens to see his property turned over to what he says is an unscrupulous developer. This month, a Queens-based state senator joined the battle, saying Hockenjos is another in a long line of victims of malfeasance and incompetence at the Department of Buildings.
Hockenjos and his wife, Irina, have been fighting with their East 23rd Street neighbors Elen and Argo Paumere since June 2009, when the Paumeres purchased the home next to them with plans for an ambitious overhaul. According to the Hockenjoses, red flags flew fast when they were approached to sign documents turning over a two-foot easement to their new neighbor.
They didn't sign, and that triggered an all-out war between property owners, according to the Hockenjoses, which includes allegations of physical violence, corruption and even involvement in the false arrest. It has also cost them their jobs, their health, and more than $150,000 in legal fees, they say.
"We're jobless. We're money-less. Our health was destroyed tremendously. We lost our reputation," Irina Hockenjos told Sheepshead Bites. "[The neighbors say] we're criminals in all kind of ways. We've sued them in civil court because they've said we're insane, and that John is a Russian mobster and he walks naked in the street."
Signs of distrust are apparent when walking past the houses. Both homes have numerous cameras pointed at each other and warnings of surveillance systems. (It was these same cameras that provided the evidence of the false arrest, securing John Hockenjos' freedom.)
Hockenjos alleges that the Paumeres have taken the fight to the streets, claiming that his wife was assaulted and they've vandalized the property. He also claims that the neighbors have filed false complaints to various city agencies, harassing them with inspections.
Among the allegations is that Argo Paumere is the one that summoned police the day of his false arrest in 2011. Cops busted him while he unloaded groceries from his car and charged him with attempting to run over the officers, a charge that was tossed when surveillance video contradicted it (the officer was later jailed for the false arrest, but only for one night; less than the amount of time Hockenjos spent behind bars). Hockenjos said Argo Paumere signed the police report, serving as a witness to the attempted murder by vehicle of the officer.
Hockenjos also showed Sheepshead Bites the photos below, which he said is the neighbors spray-painting the Hockenjos' driveway, as well as a crude message for them: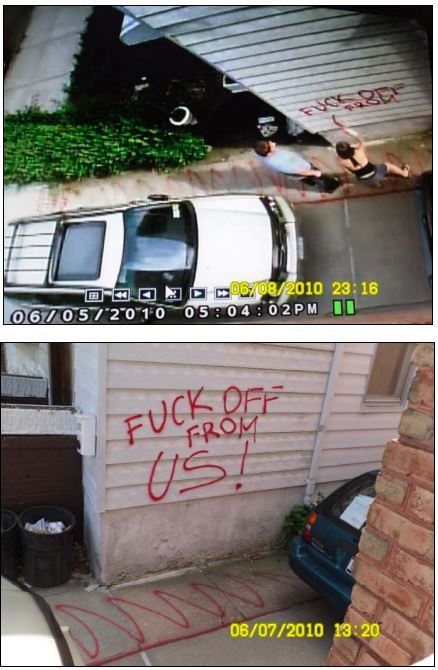 They've set up a website to document what they claim are the legal transgressions of their neighbors, and have obtained a restraining order against the Paumeres from interfering with their property.
The two say they've been diagnosed with post-traumatic stress disorder because of the ordeal, and the time they've been forced to take off of work to defend their property cost them their jobs.
"I'm not blind to the fact of what they're doing to me and my wife. My wife was tortured by these inspectors who came here, literally threatening that her property would be turned over to this developer," said John Hockenjos. "I just don't understand why this person is not in jail. This is very serious stuff they've done."
The root of the tension is the size of the construction and the two-foot easement that separates their properties.
According to the Hockenjoses, when the neighbor failed to win their approval of the property transfer, they went and created a fraudulent land survey that marked a chunk of the driveway as theirs. They submitted it with the construction plans to the Department of Buildings, which approved it without question, they said.
Despite their protests to the agency, the department insisted the dispute was a civil matter and not any of its business.
They attempted to turn to local elected officials, but received no help. And headlines of corruption scandals added to their skepticism.
"Our [state] senator, [Carl] Kruger, was taken by the FBI [and convicted of bribery]," said Irina. "Then David Storobin who came after him was dismissed as a senator and he was gone [because of redistricting]. Then we went to John Sampson but [it was revealed] he was being investigated by the FBI. So we have no senator to go to."
That's when they learned about Queens-based State Senator Tony Avella, a frequent foe of the Department of Buildings who has spent years pushing reform at the agency in the State Senate and, before that, the City Council.
Avella joined the couple for a press conference on November 21, protesting what he alleges is possible illegal construction and the potentially fraudulent claim to the property laid by the neighbors.
Avella told Sheepshead Bites that the problems the Hockenjoses face is part of a long-standing pattern of corruption and incompetence at the DOB.
"It's something that's a bottom line issue with the DOB where an applicant just presents an application and they never really check it to see if the size of the property is correct, or whether they own the property or not. The builder says they own part of the property that's actually the neighbor's, and the DOB approves it," he said. "It's a very serious issue. Anyone can submit a false application, fraudulent documents and fraudulent land surveys, and no one checks it."
The state senator says it's largely due to the fact that the DOB is tasked with promoting development while also overseeing the developers.
"The mission of the agency is conflicting. The mission is not only to monitor construction and ensure building maintenance throughout the city, but also to encourage development throughout the city," he explained. "It's a problem; you've got to work with the guy, sit across the table from the guy that you're supposed to be overseeing. And until you resolve that conflict you're always going to have these problems."
He said the Hockenjoses are not alone. He's currently helping Bronx residents battle a developer who he says also submitted fraudulent documents claiming property that they don't own.
According to both Avella and the Hockenjoses, the DOB's modus operandi when they receive complaints about fraudulent documents is to wash its hands of the problem and declare it a property dispute to be handled in civil court.
"When there is a dispute, where is the DOB? They should be analyzing it. But rather than that, they say it's a private building and they'd rather not get involved [referring it to the civil court]," Avella said.
That comes with its own set of problems. The Hockenjoses have gone through lawyer after lawyer, some of which they say took their money and never did any work. Others have refused to take the case because it appears to exist in a sort of legal no-man's-land.
"They're saying I'm not going to take this case because it's not a real estate case, it's not a property dispute case, it's a criminal case. And we go to criminal attorneys and they tell us we need to go to prosecutors. And the prosecutors say it's a civil case," said Irina Hockenjos.
After much work, the couple has received some relief from the DOB. They say the Brooklyn department rejected their objections outright. They then went up the ladder to the Manhattan department, where the neighbor's documents were reviewed. The approval was eventually overturned, Hockenjos said, and three later amendments to the plans were rejected. Ultimately, the city issued violations and a stop work order, and even found additional problems such as building the home larger than zoning allows, Hockenjos said.
"When [the Manhattan DOB] saw it they went crazy, they couldn't believe what they were seeing," he said. "They can't complete construction. They're in limbo. They can't finish the job because it's so illegal that they either tear it down or they partially tear it down and fix what's wrong with it. They violated the zoning codes and the building codes and our property rights so much that they have to fix it."
But problems remain in court. The couple is currently waiting for a decision on ownership of the driveway between the homes, on which the neighbor would like to build an addition in the rear of the house with doors that open past the easement.
According to the Hockenjoses, the neighbor is demanding that the driveway be turned over to him, a claim which leaves them baffled.
"The fact that he bought property next to us doesn't mean he has the right to dispute our property. If he had inherited our property or owned it before us or had averse possession for 10 years, he could make a property dispute," said Irina. "But there's no civil legal reason for him to dispute it with us or for him to get it. Even in the case he filed against us, there's no law mentioned. It's supposed to say such and such a law, but there was no law mentioned, ever."
"Every time he does something fraudulent or wrong, all of a sudden the burden falls on us to prove beyond a reasonable doubt to prove that he did this," John Hockenjos agreed. "And the burden should not be on me, it should be on him."
Phone calls to the Paumeres for comment were not returned by the time of this publication.