After $2 million to repair cave-ins along Shore Road Promenade, CB10 to request a proper study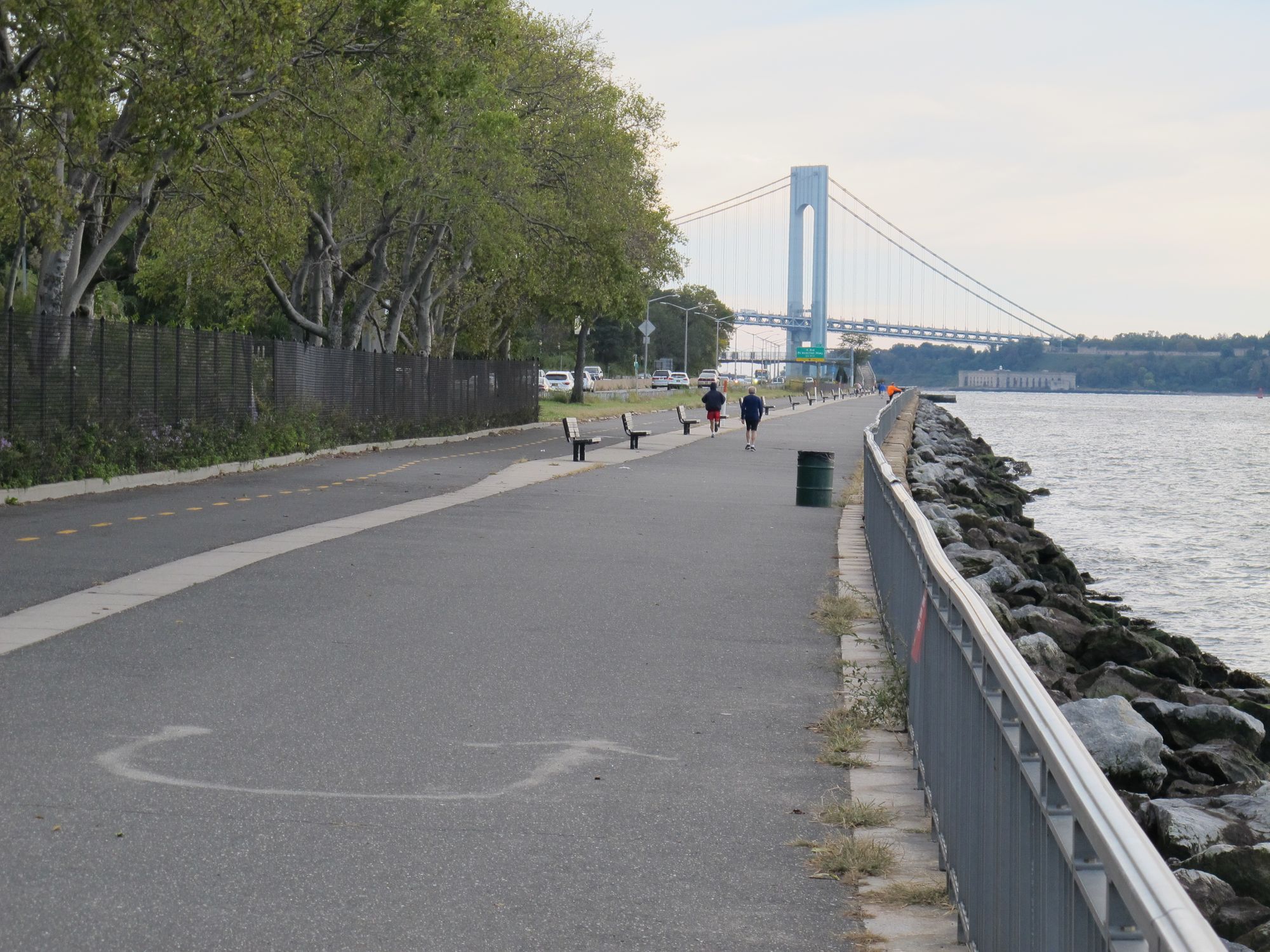 BAY RIDGE – The Brooklyn District 10 Community Board voted Monday to request a study of the Shore Road Promenade and Bicycle Path infrastructure, citing "recurring cave-ins threatening public safety."
The request was the top item for the Board's Fiscal Year 2020 Preliminary Budget Register, which the Board passed at their monthly meeting Monday night at the Knights of Columbus Columbian Room on 86th Street.
"There are some really big, major items on here, and they just keep showing up every year," said Doris Cruz, chairperson of Community Board 10, of the capital budget requests just after they passed.
This is not the first time this concern has topped the capital budget priorities list, and residents have taken to social media to complain about the problem before.
Community Board 10 District Manager Josephine Beckmann told Bklyner in a phone interview that while City Councilman Justin Brannan did secure $2 million in funding this year for temporary emergency repairs, there was a need to research what was causing the cave-ins so that they could be fixed for good.
"An engineering study would begin to develop a long-term plan for addressing some of the recurring depressions along the promenade," she said.
Brannan's office told Bklyner the $2 million dollars for the pending repairs is necessary now because of the sheer amount of work that needs to be done.
"Improving the Shore Road promenade and bike path is a top priority," Brannan said in a statement to Bklyner.  "These repairs will fix the current potholes and moon-like surface of the path for now but there are still larger issues that desperately need to be addressed."
"I fully support Community Board 10's proposed study to find out once and for all what needs to be done and how much it's going to cost," Brannan added.  "Hurricane Sandy really took a toll on this stretch and I'm afraid there are underlying issues that are going to require serious federal money to properly overhaul and fortify."
"There are currently 30 recurring cave-ins along the Shore Road Promenade/Bicycle Path within the confines of Community District 10," the Board said in its budget request.  "The source of the undermining needs to be examined and a resiliency redesign put into place. The recurring cave-ins pose an immediate safety risk to bicyclists and pedestrians."
The Shore Road Promenade runs 4.5 miles from Bensonhurst Park to Owl's Head Park along the coast of Brooklyn and is known for its views of New York Harbor, including the Verrazzano-Narrows Bridge and the Statue of Liberty.
The New York City Parks Department expressed support for the study.
"Like the communities that surround this important throughway, we hope to see more funding dedicated to its improvement in the future. We would welcome a study to help ensure the longevity of the pathway and the safety of the park-goers who use it," Parks spokesperson Maeri Ferguson said in an email.
Andrew Gounardes, who is running against incumbent New York State Senator Marty Golden, wants to build a new waterfront park modeled on the High Line and Brooklyn Bridge Park.  The new "Narrows Waterfront Park" would stretch from Bay Ridge to Coney Island and would encompass the Shore Road Promenade.
When asked about the Community Board's request, Gounardes expressed support.
"Making sure that the Shore Road Promenade is structurally safe is critically important to determine what investments are needed to not only maintain the promenade but expand and improve on it in the future, as I hope to do when elected," he said through a spokesperson.
Golden's office did not respond to requests for comment.