Additional Sanitation Pickups For Passover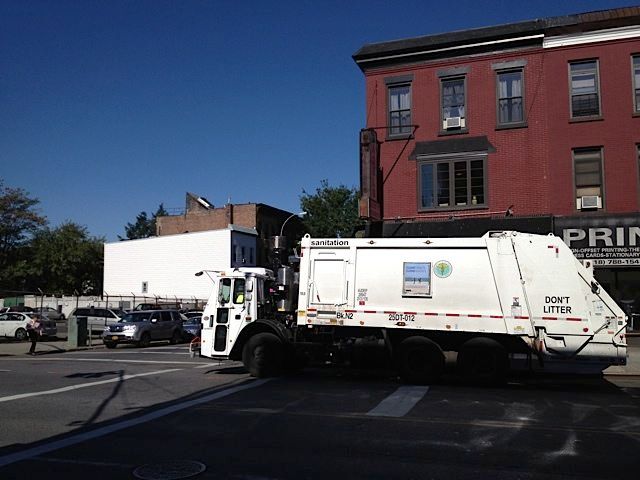 Just a quick reminder to everyone cleaning and getting their homes ready for Passover: NYC Sanitation department has added the following special pickups in Brooklyn:
CB12: Kensington, Midwood, and Boro Park
The Sanitation Department is asking everyone who has bulk items to start placing them out for collection as early as possible.
The entire district will get a recycling pickup on Sunday night, April 9 through Monday morning at 8 AM. All residents are asked to please put out their recycling on Sunday night. On Monday, April 10, the entire district will get a regular garbage pickup from 6 AM to 2 PM. The Department of Sanitation will also be cleaning certain major commercial strips in the district, every night this week from 12 AM to 8 AM using Motor Litter Patrols and heavy duty blowers.
Sanitation Enforcement cautioned that all bulk items and cardboard boxes should be tied up and placed out neatly. All mattresses and box springs must be entirely wrapped, preferably in a store bought bed bug bag or in plastic. If a mattress or box spring is placed out without being wrapped, Sanitation will not collect them and a fine of $100 may be issued. Due to a law that went into effect on April 1, 2015, electronic items will not be picked up by the Sanitation Department and a $100 fine may be issued if put out. All electronic items should be brought to the local garage on 19th Avenue and 56th Street.
A Chametz (bread) burning schedule has also been approved by the Fire Department (FDNY). The pre-Passover ritual, which will occur on Monday, April 10 morning, must be completed by 11:38 AM. For the safety of the community, the fire department will strictly enforce this 11:38 AM curfew.  You can see the map of approved sites as well as locations of containers placed within CB12 here.
A few more pre-Passover fire safety tips from the FDNY:
Only Chametz should be burned.
Chametz should not be enclosed in silver wrap when it is burned, nor should any flammable or combustible items, be burned.
No liquid accelerants should be used to ignite fires, nor should such products be thrown into any fires, as these items have caused serious accidents in past years.
Fires may only be carried out at approved sites.
CB14: Flatbush, Midwood
For areas with regular pick up on Monday/Thursday or Wednesday/Saturday, the plan provides for an additional collection on Friday, April 7th.
For areas with regular pick up on Tuesday/Friday, the plan provides for enhanced collection on Friday, April 7th.
If you live between Ditmas Avenue and Avenue L (between Coney Island Avenue and Nostrand Avenue): Your special pickup is on Monday, April 10th (Must be placed outside no later than 11 AM)
The additional/enhanced Friday recycling collection will take place from 12:00 midnight to 8:00 AM. Therefore all recycling materials must be placed at curbside on the evening of Thursday, April 6th for collection on Friday, April 7th. The use of plastic bags for these special collections is strongly suggested.
All regular refuse materials, including Chometz, should be placed at curbside no later than 11:00 AM on Friday, April 7th.
An additional recycling pickup for both of these areas will begin Sunday evening during the overnight hours. A dumpster will be located in front of Hudde Junior High School at 2500 Nostrand Avenue on Monday morning.
CB15: Sheepshead Bay
If you live in CB 15, your special garbage AND recycling pickup is in the evening of Sunday, April 9th (must be placed outside no later than 5 PM on Sunday).
A dumpster will be located at the following locations on Monday morning:
Quentin Road between Bedford Avenue & East 26th Street
In front of 2810 Nostrand Avenue