Abe's Pagoda Bar – New Bushwick Hang
BUSHWICK- Abe's Pagoda Bar on Wyckoff Avenue opened on April 20th. The space has a tropical feel, with eccentric decorations pretty much everywhere you look. Lamps line the space above the bar, red lanterns make up a hallway, there are two pool tables, a photo booth, and a (not yet functional) jukebox at the front. The space is large, with two rooms and an occupancy of around 70.
"The idea kind of came from Chevy Chase's [character's] bar in the movie Caddyshack. His basement bar, his house bar, literally that's all we talked about for a long time. We would find something on eBay or wherever and be like 'this is totally his bar, right? Yeah!' We saw it as this eccentric guy who had a storied life, who traveled in Southeast Asia and all around the world and came home with all of these relics," Curley said, adding that Martel's wife is Chinese American, which also influenced the bar's design.
Many of the elements at Abe's Pagoda Bar have stories like this behind them, including the menu.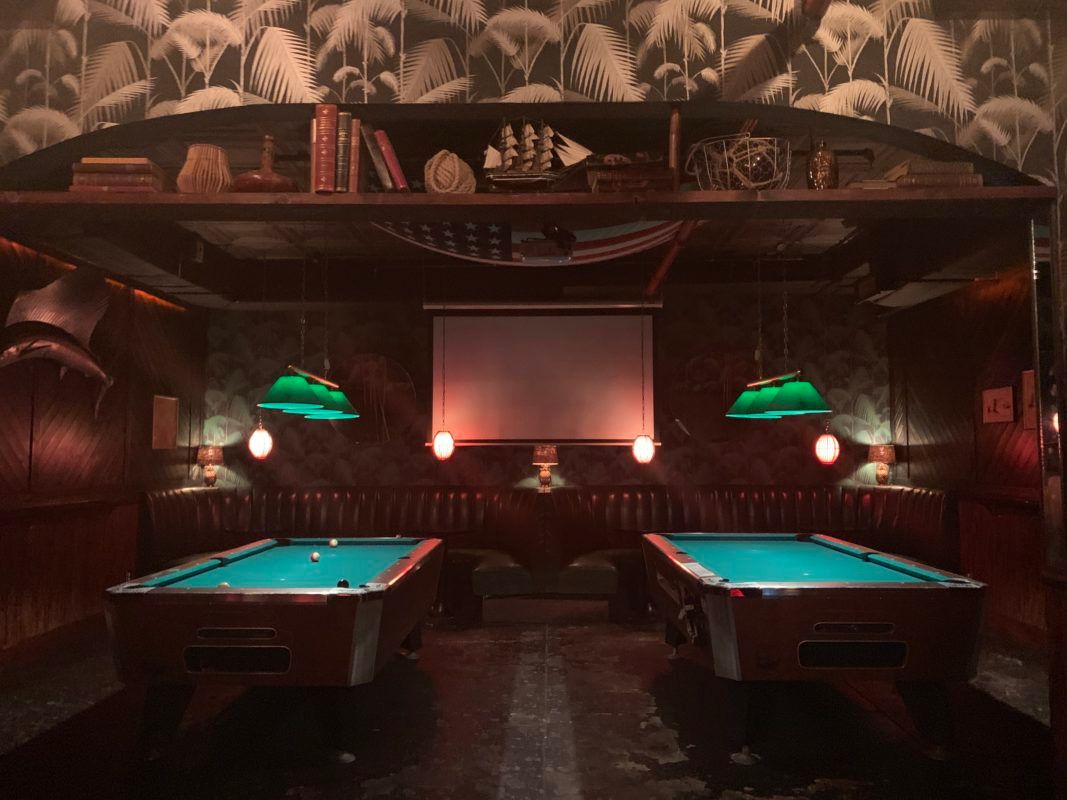 "The idea was that an American moves to an island in the South Pacific and opens a bar and grill and tries to serve very basic bar food. But, he has to kind of tailor it to the locals' taste," Curley said. He attributes these intense backgrounds to the extreme amount of time the partners had to think about the space before it actually opened.
It took almost four years to get to the opening day. Co-owners Greg Curley, of The Double Windsor and the since shuttered Cake Shop, Bill Martel, and Matt Stevenson signed the lease on the space at the end of 2014 and faced an uphill battle from there – a slow plan examiner from the Department of Buildings, old open applications on the building, and final name switches.
"We called it Bongos, Bongos, Bongos and between all of our friends, I'd say, 5,000 people, in their minds this place was called Bongos, Bongos, Bongos for about three and a half years. We changed the name at the last minute," Curley said.
"Every time we have a hard thing – like if we have a plumbing issue, and I'm really stressed out about it, one of us will just be like 'Hey, we're open! We're open.' Yeah, that's good. We could be just not open, still," he said.
Stevenson, one of the partners, is a long-time bartender who has worked at "every bar in Brooklyn", Curley says, only half-joking, adding that many people in the neighborhood know and recognize Stevenson, a local himself who bartends several nights a week in the space.
The menu, curated by Curley and chef Ray Yakoob, is mainly bar food and snacks, and they currently serve the full list until midnight. After that, the bar serves a smaller snack-only menu until 2:00 am, something that Curley says they are considering altering.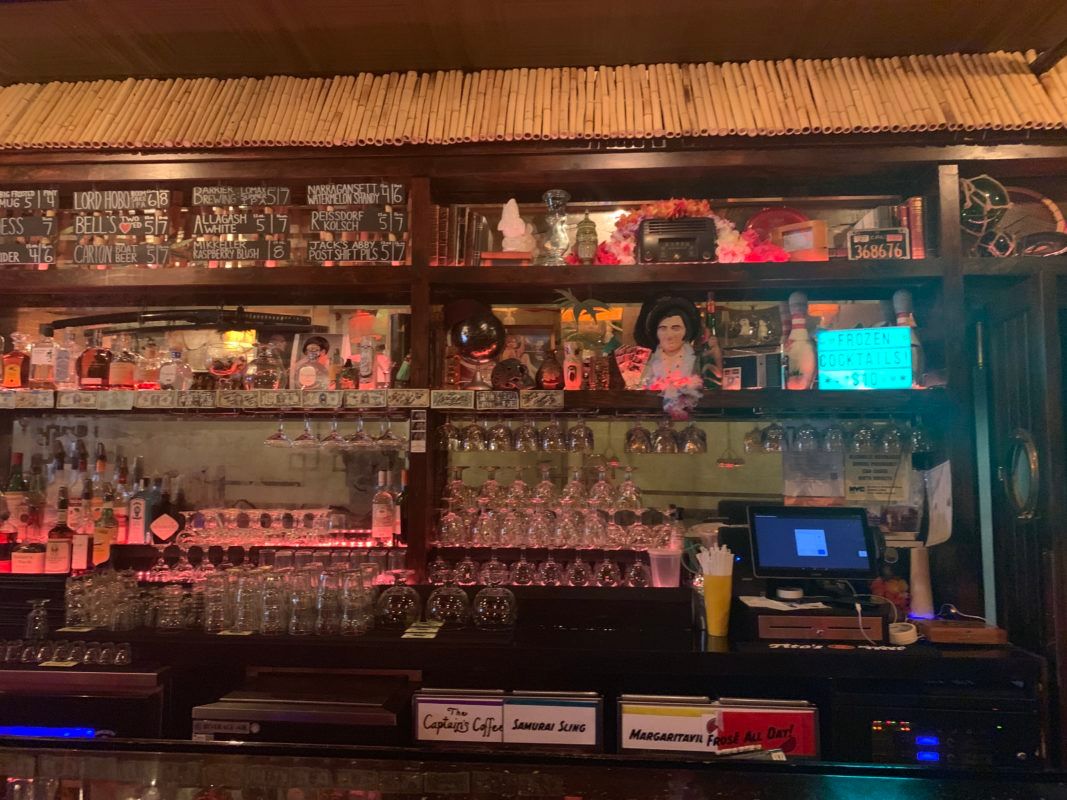 "I'm seeing customers are thinking more about food at the end of the night than they are [the beginning]," Curley said. The menu includes drunken noodles, a burger that is "fucking amazing", Curley says, four variations of hot dogs (with the option to have them vegetarian), three kinds of fries, and many other bites. The bar has recently updated their cocktail menu, and also serves beers on draft and frozen drinks. So far, Curley says Budweiser has been most popular- they serve it in an oversized frosted mug.
He says that Bushwick has always seemed like a good place to open for them and he's surprised at how varied their clientele has been.
"I'm 47. I have no idea what kids like to listen to anymore, so we hire DJs. And they, almost all [of them], like to play a lot of disco. It seems like that's what the kids are liking. I had no idea," Curley said.
"So, one night I'm at home, we have cameras you can kind of view at home, and my partner says, 'You have to look at camera four'. There [were] about six or seven older women, I mean white-haired older women, over 65 definitely, dancing. All of them dancing. The place was packed and they were dancing in a circle. It was the cutest thing I've ever seen."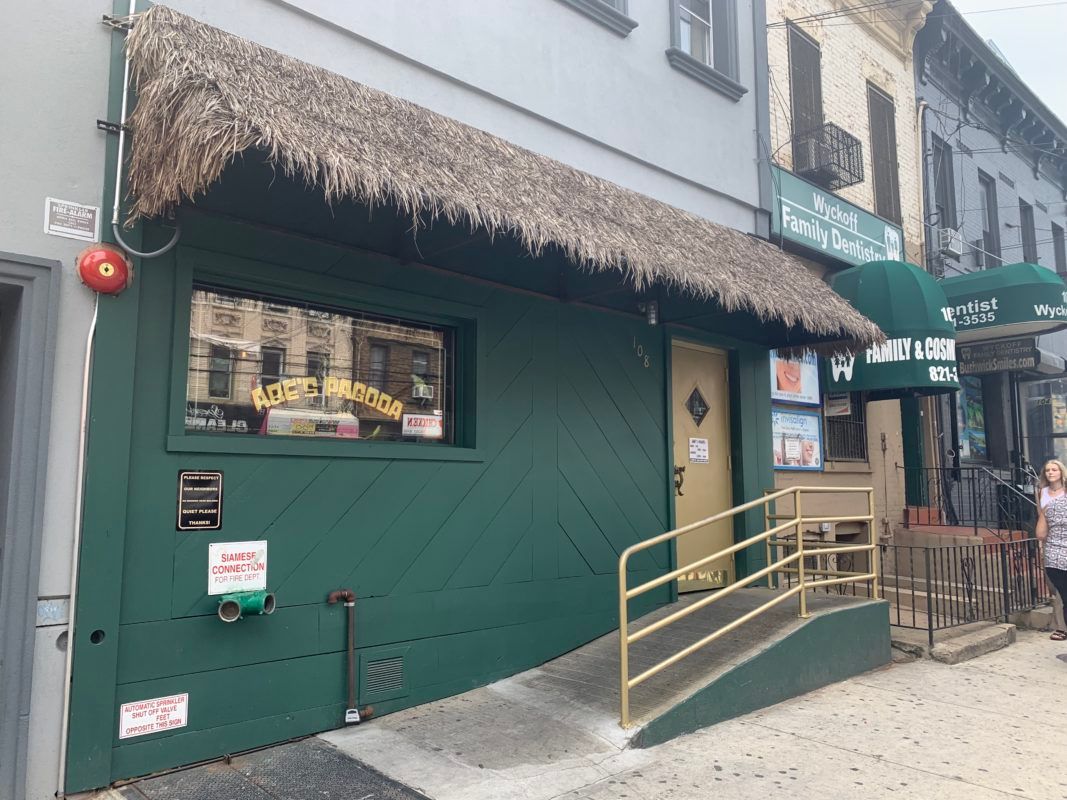 Moments like these are ones Curley is grateful for.
"It's a great feeling to see people having fun in a place you've worked so hard for, and they definitely seem to be having fun," he said.
Abe's Pagoda Bar is located at 108 Wyckoff Avenue, between Dekalb Avenue and Stockholm Street. They are open from 3:00 pm- 4:00 am weekdays, and from 12:00 pm-4:00 am Saturdays and Sundays.