A Republican Underdog In A Sky Blue District – Naomi Levin Thinks She Can Win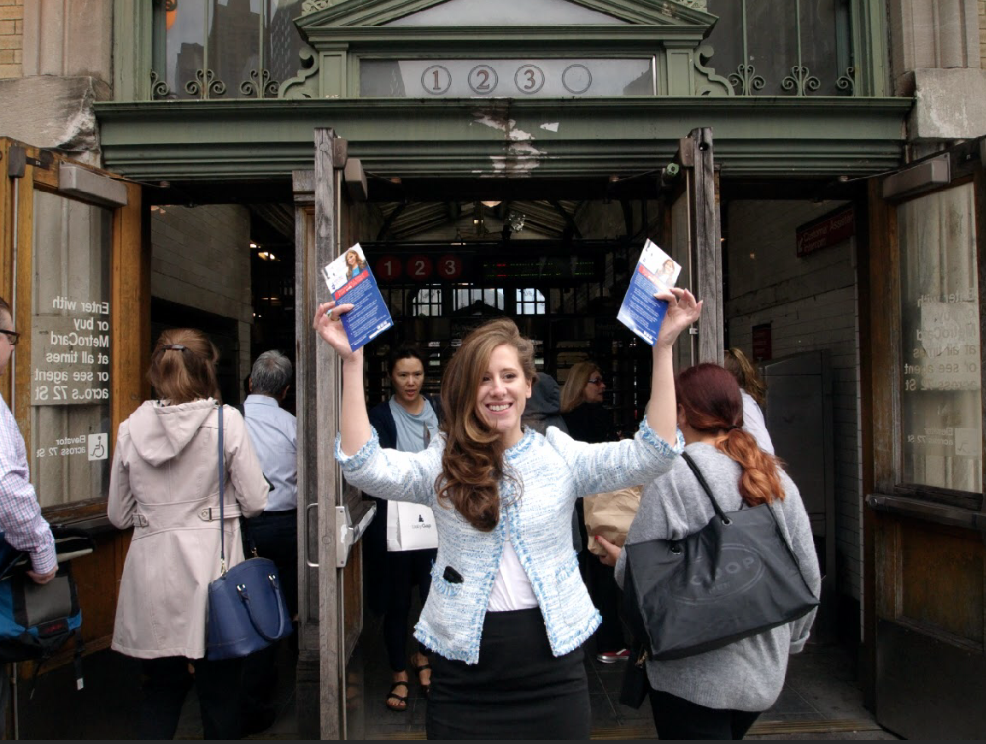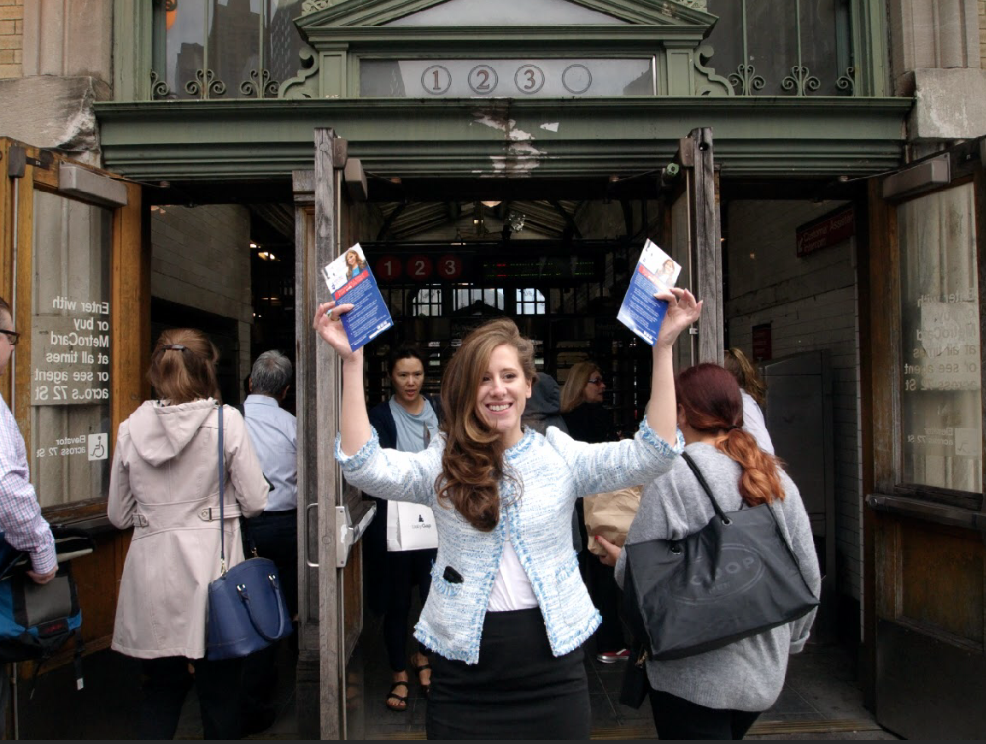 WESTERN BROOKLYN – In emerald heels, Naomi Levin fought for votes during the morning rush. Commuters muttered "no", and avoided campaign cards in her outstretched hand, yet she remained undeterred.
"My polls showed that a majority of voters in the district prefer someone new," said Levin, 35,  a pro-Trump conservative Republican with no political experience, who is running for a district so blue it hasn't elected a Republican in almost 100 years. "This race is winnable."
The 10th Congressional district includes Manhattan's Upper West Side, Hell's Kitchen, Chelsea, SoHo, Greenwich Village, TriBeCa, Financial District, and Battery Park City and stretches across the Brooklyn Bridge to cover Borough Park, Kensington, Red Hook, Sunset Park, Bensonhurst, Dyker Heights, and Gravesend. This predominately white and affluent district is one of the most educated in Congress, and heavily Jewish.
Levin is attempting to unseat Jerrold Nadler, one of the most liberal Democrats in Congress, who's represented the 10th Congressional district for 13 consecutive terms.
Nadler's team say they're not worried.
"Naomi who?" laughed Nadler's spokesman Robert Gottheim. "We're going to win this. She's a Trump supporter."
Nadler, 71, has won each of his last 13 terms with more than 75 percent of the vote. He is a ranking member of the House Judiciary Committee, which is the hot seat for all federal impeachment proceedings. Nadler has already filed a resolution of inquiry into Trump's finances and businesses. If compelling evidence is found, this could begin the impeachment process.
Nadler has raised more than 20 times more money than Levin. He has the home-court advantage over Levin, a transplant who has lived on the Upper West Side for six years. City and State called him "godfather". Well-connected, Nadler said The New York Times always takes his calls.
By comparison, Levin said, "I have a press list of 100, and I call them all, and not one has called me back. They ignore me."
Kellie Lynch, 26, a campaign volunteer for Levin, was excited that a young woman was running for office.
"She's young! She's Republican!" Lynch said. "She definitely has a chance!"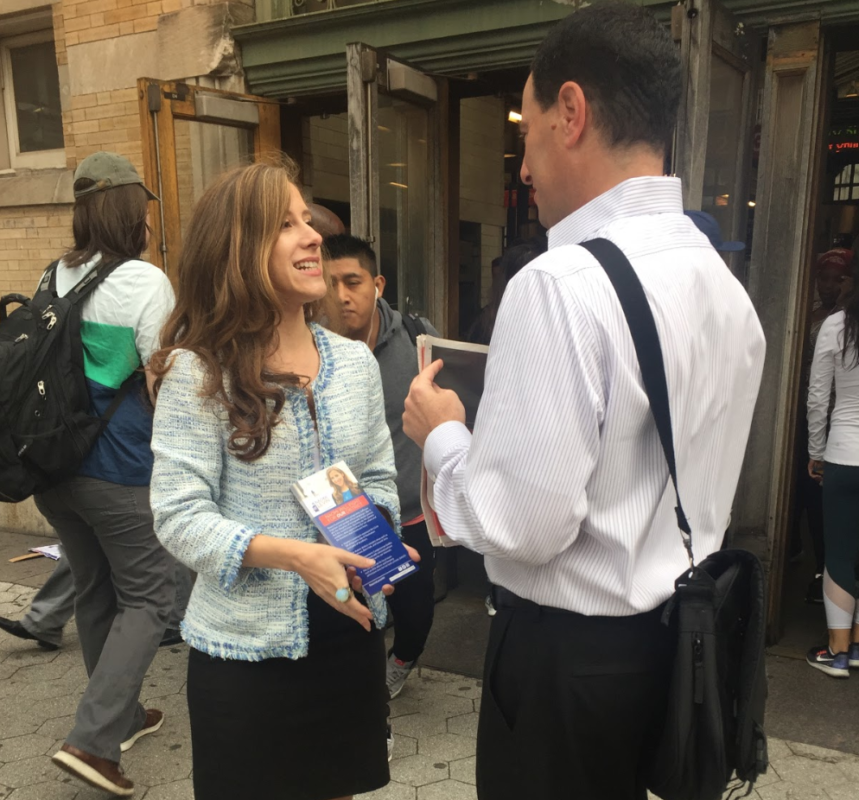 A woman carrying a large city zoning map emerged from the crowd of commuters.  She was on her way to protest at City Hall, but she stopped to listen to Levin.
Levin explained that she supports school choice, which could make her popular among district parents, the majority of whom opted out of their zoned schools.  She also wants to make rent a tax-deductible expense, which could appeal to the over two-thirds of the district who are renters with an average rent burden at 33 percent of their gross income. She is adamant about MTA reform at a time when 70 percent of riders rated their commute as unacceptable and over 80 percent blamed it on government mismanagement.
"Nadler is steering us in the wrong direction," Levin said. "I am doing this to protect our American values and freedoms and to stand up for our interests."
The zoning protestor loudly agreed with Levin. She told Levin she didn't want to vote for incumbents. She examined Levin's campaign card and asked, "What party are you with?"
Levin's smile faltered. She hesitated before she replied. The zoning protester backed away awkwardly, shook her head and said, "I can't vote Republican."
Levin pulled her smile back up. She thinks anything can happen in an election.
"I have met so many people on the street who believe we need a change," said Levin, "I am their alternative."
Correction: We incorrectly reported earlier that Nadler has already filed a preliminary inquiry for impeachment against the president. Nadler has already filed a resolution of inquiry into Trump's finances and businesses. If compelling evidence is found, this could begin the impeachment process.