A Last Minute Ditmas Park Father's Day Gift Guide

If you looked at this headline and went, "Father's Day is Sunday?!", you wouldn't be the first one to say it this week. Luckily for you (and your wonderful Pops), there are plenty of local gift options to pick up in virtually no time.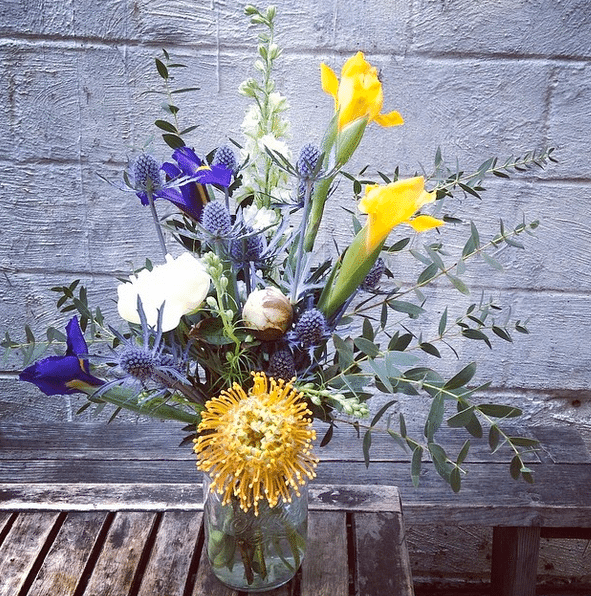 Planning a shindig at home? Spruce the place up a little with help from the staff at Stems (1118 Cortelyou Road between Stratford and Westminster Roads), who are currently taking Father's Day flower orders in store and at 347-240-5850. They'll be open from 11am-6pm today and 11am-5pm both days this weekend, and will have flowers, air plants in terrariums, and even adorable wooden Bow Times bow ties (made by owner Suzanna Cameron's brother!) available for Dad.
As for party drinks, Market (1211 Cortelyou Road between Westminster and Argyle Roads) is holding a 20% off sale on all beers this Sunday, June 15. Specially recommended are the Green Flash Road Warrior Imperial Rye IPA; the spicy, hoppy Rogue Dead Guy Ale, and the extra large, summery Jolly Pumpkin Sour Ale.

If your dad's more of a wine and spirits guy, T.B. Ackerson (1205 Cortelyou Road between Westminster and Argyle Roads) recommends Tinto Pesquera Ribera del Duero ($33.99), Laphroaig Single Malt Scotch Whisky ($84.99), Breckenridge Bourbon Whiskey ($49.99), or Privateer Silver Reserve Rum ($32.99).

At least some of those beverages demand classy vessels, so Collyer's Mansion (368 Stratford Road between Cortelyou and Dorchester Roads) is a reliable next stop. They have glassware at several price points (the glass pictured is $17, and carafes range from $38-48), rustic plaid trays, cookbooks, beard brushes ($10), and blankets handmade in Maine ($236)–everything a father could need for the stylish log cabin of his dreams. If he lives far away, you can also order many of Collyer's items to him via their online store.
Across the way, Brooklyn ARTery (1021 Cortelyou Road between Stratford Road and Coney Island Avenue) also offers some glassware–as well as journals (pictured at top; paper from $10, leather-bound $28), funky ties around $20, and bags and wallets made of seatbelts from $48-145.

Brooklyn Industries (1420 Cortelyou Road on the corner of Marlborough Road) is also offering 25% off on messenger bags, backpacks, and sweatshirts for men; plus selected other items are currently buy one, get one 50% off.
For the sporty dad, Wealthy Ho$tage (1924 Church Avenue between Ocean Avenue and E 19th Street) carries sneakers, sweatshirts, jeans, and tees from Nike, Adidas, Puma, and more–many of which are on sale right now. If you can't choose just one item, they offer gift certificates too.
Tresor en Fleur, located inside Konstantino's Crepe et la Vie (1715 Foster Avenue between E 17th and E 18th Streets), carries mostly womenswear–but if the dad in your life enjoys his vintage tchotchkes, you might still find just the right home accessory inside.

If your dad would prefer a pampering experience, get him a hot shave or massage at Vincent's Barber Shop (1505 Cortelyou Road between Marlborough Road and E 16th Street) or Leon's Fantasy Cut (7 Newkirk Plaza)–it won't set you back too much to make him look dapper and feel refreshed.
You could also buy him some classes or a massage from the newly-opened Church Ave Yoga & Bodywork Center (338 E 5th Street between Church Avenue and Beverley Road) or a day at Brooklyn Banya (602 Coney Island Avenue between Lewis Place and Matthews Court).
Did we miss anything? Leave your other gift suggestions in the comments, and have a Happy Father's Day!