88th Precinct Crime Statistics: Slight Increases In Almost Every Category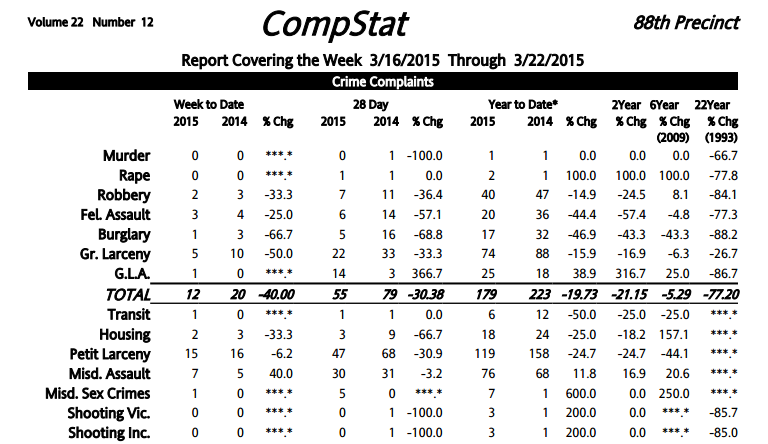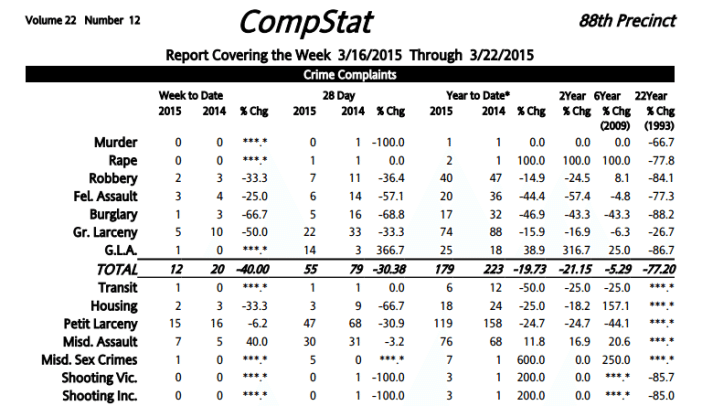 Types of crime that saw fewer numbers this week, compared to last week, were rape (down to 0 from 1), robbery (down to 2 from 3), burglary (1 from 2), and auto thefts (1 from 7). This week's data reversed the increases seen last week from the previous week before that.
Slight upticks were seen in felony assaults (up to 3 from 1) and grand larcenies (up to 5 from 3).
Also seeing increases this week were the crime categories of transit (up to 1 from 0), housing (up to 2 from 0), petit larceny (up to 15 from 12), and misdemeanor assault (up to 7 from 6).
Only misdemeanor sex crimes didn't see an increase — although that just means it stayed the same, at one reported incident this week.
What could be triggering the increases? Warmer weather? Regular ebbs and flows of crime?
The next 88th Precinct Community Council meeting is Tuesday, April 21 at 7pm at the French Speaking Baptist Church, entrance at Vanderbilt and Willoughby Avenues.
CompStat reports are produced by the New York Police Department on a weekly basis. We publish the week's statistics for the 88th Precinct reports every week. The 88th Precinct is the police command that oversees Fort Greene and Clinton Hill.