7 Questions For Pamela Harris: Assemblywoman Talks CIGG, Media Scrutiny & Serving The Whole District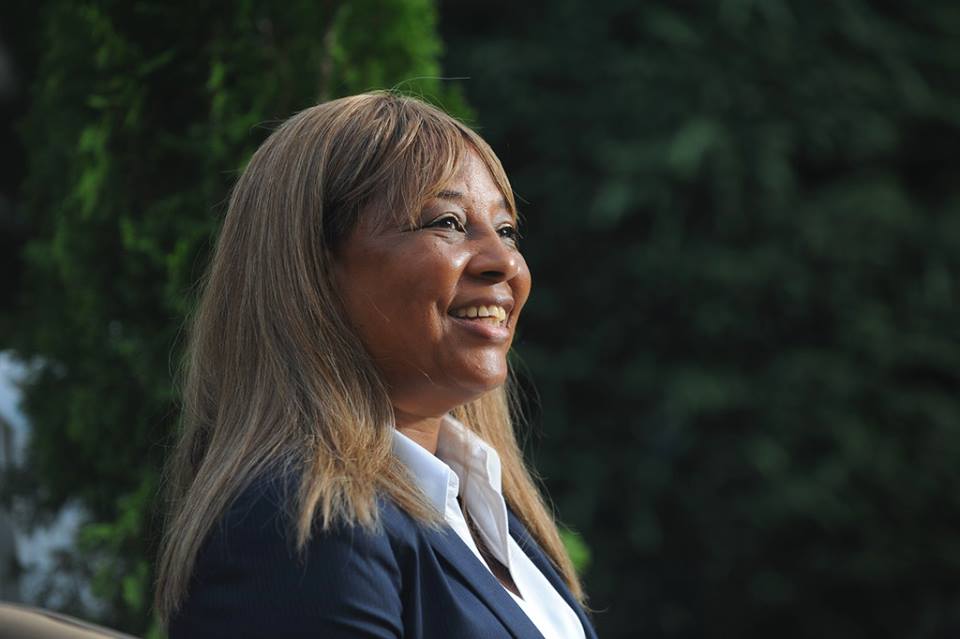 Assemblywoman Pamela Harris has deep Brooklyn roots.
A lifelong resident of Coney Island — where she currently lives with her husband Leon — Harris made history last year, when she won a special election to fill the 46th Assembly District seat left vacant by ex-Assemblyman Alec Brook Krasny, becoming the first black candidate to win a white majority district in New York City.
In her bid for re-election, Harris faces a fierce challenger in Kate Cucco, a Bay Ridge activist from Ohio and former chief of staff to Brook-Krasny, in a somewhat geographically divided district, which includes Bay Ridge, Brighton Beach, Coney Island, Dyker Heights, and Sea Gate.
Harris' record of public service includes nearly 30 years as a Rikers Island corrections officer and working to revitalize Coney Island through her non-profit organization Coney Island Generation Gap (CIGG) — which aims to educate and empower youth to keep them off the streets and away from crime. She's also made her mark as a vocal advocate for post-Sandy relief and resiliency efforts, having personally helped displaced neighbors in the aftermath of the storm.
Since she took office, some news outlets have questioned the assemblywoman's allegedly "too cozy" relationship to the non-profit she founded and as well as she and her husband's past financial difficulties.
With the September 13 democratic primary quickly approaching — followed by a November general election — Harris sat down to chat with us about CIGG, taking media criticism in stride, her family's Bay Ridge connection, and what she loves most about the 46th Assembly District.
1. When people talk about the 46th District, it's often described as divided, not just geographically, but also racially and socioeconomically. What do you think are the issues facing both the Bay Ridge side and the Coney Island side of the district?
I believe that although the make-up of the areas are somewhat different, everyone residing in the district has the same wants and needs: a safe place to live, excellent schools for their children, clean streets (including timely snow removal in winter) and an affordable cost of living. In the past, many felt Bay Ridge was "out of the loop" when it comes to receiving quality services.
However, within my first six months in office, I have proudly begun to fill voids that have existed for years, overseeing the allocation of funds to improve services across the district, including $125,000 in funds to the 68th Precinct, which would help to increase the amount of patrol cars in the area to keep our neighborhood safe and $250,000 to PS/IS 104 The Fort Hamilton School in capital upgrades.
Additionally, I allocated more than $1,000,000 to better serve residents of Coney Island, Sea Gate, Brighton Beach, Warbasse, Luna Park, Trump Village, Beach Haven Apartments, and Brightwater Towers – each hit hard by Hurricane Sandy. Future funds will be distributed to enhance senior centers, parks, schools, medical services and libraries in Bay Ridge and Coney Island.
I sponsored A10201 in the Assembly, a bill to facilitate state funding for Naturally Occurring Retirement Communities (NORCs). The 46th Assembly district has one of the highest NORC concentrations in the state. Currently, projects need to raise an amount equal to the state funding allocated in their contract. Under this bill, they would need to raise only 25 percent of that amount. Bill A10201 was passed by the Assembly and Senate and is expected to be signed into law by Governor Andrew Cuomo by August 19.
Our entire community – regardless of neighborhood – is important to me, I will ensure that no resident in our community will ever feel "left out" again.
2. You recently opened up about your past health and financial struggles, calling out your opponents and the media for personal attacks on you and your family. Do you feel like the media has been unfair in focusing on your past financial difficulties and your relationship with CIGG?
I have worked hard for many years to not only take care of my family, but also to give back and serve our community. I have a real life, one with past financial struggles and a past relationship with a wonderful group that I created – that does amazing work for our youth.
The real focus should be coming together to keep young people safe and off the streets, something I have deeply strived for in my work with CIGG. By taking a rather critical approach, I do believe thus far the media have neglected to acknowledge the incredible accomplishments of this diverse young group. When communities were still reeling from Hurricane Sandy, CIGG was the only youth program to create a full-length documentary about the storm called "Keeping Heads Above Water," in spite of limited resources and water-damaged video equipment. These youngsters are heroes in my eyes and do not deserve to have their program tarnished.
As for my family, yes, we have been through some tough times, but so have many other families. When we're down, we pick ourselves up again. The same is true with CIGG.
As I keep moving forward, my eyes and ears remain glued to the needs of my district. If I receive criticism along the way, all that does is fuel my fire to do the best job I can to keep communities safe and thriving.
3. I've heard your dad grew up in Bay Ridge. Can you talk a bit about your connection to the neighborhood?
Yes, my dad, Nick, lived at 8020 4th Avenue with his sister, Marie, and their parents. He and Marie attended St. Anselm's. My nephews attended the school as well, and were also christened at the church. They later graduated from Xaverian High School.
As a child, my family and I enjoyed eating and shopping along 3rd Avenue, activities which I still enjoy today! When we weren't dining out, you'd often find my father whipping up wonderful Italian meals in our kitchen. Unfortunately, I didn't inherit his outstanding cooking skills, but my twin sister did.
Representing this district – where my Dad was a lifelong resident – definitely holds a special place in my heart.
4. Over the past year, you got to dive head first into state politics. Can you talk about what that experience was like and some of the legislation you've helped to pass that you are most proud of?
It is my love of community that got me here. No political training for me; just good old-fashioned love of my neighborhood and the strong will to make a difference. Before I got to Albany, I met with community leaders, residents, small business owners. With every interaction, I knew what issues I needed to tackle. The information I received gave me the inspiration to write, sponsor, and successfully pass bills that will impact countless lives for years to come.
In addition to fighting for all of these issues during my first year, I was extremely proud to pass legislation raising the minimum wage, making it easier for retirement communities to earn state funding, and also enacting the most comprehensive paid family leave policy in the nation.
5. If re-elected, what else do you hope to accomplish in Albany?
I hope to continue to pass strong bills that will help our families thrive, while also making great strides in education and drug and alcohol programs. Additionally, my illegal conversion legislation and strengthening our gun laws will also be top priorities of mine. Furthermore, I plan to fight for more funding for youth services to steer children on a path to success. For seniors in our district, I remain committed to improving their quality of life so that they can enjoy their golden years with ease.
6. What's harder: Being a corrections officer at Rikers? Or running an re-election campaign?
This is a great question. The motto of a correction officer is "Care, Custody, and Control," and I believe I have to stick to that. No matter what, I will take Care of my constituents, I will take Custody of my actions, and I will Control my destiny. For me, there is no greater honor than being a public servant.
7. What do you love most about the 46th District?
Put simply, it's home.