62nd Precinct Welcomes New CO, Says Farewell To Captain Taylor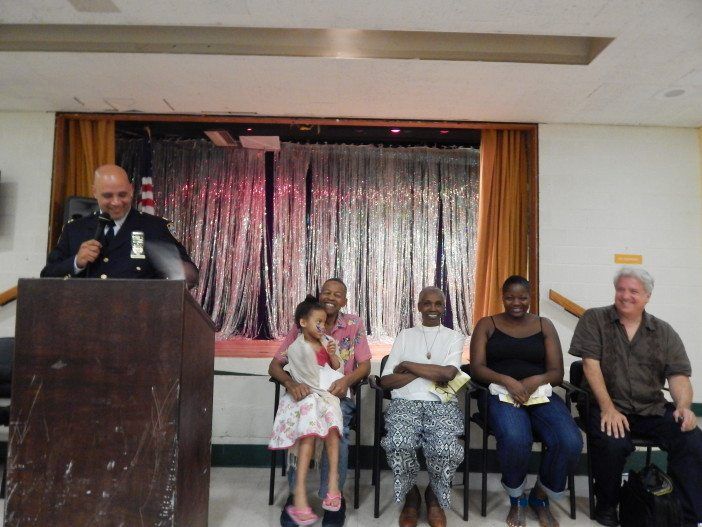 The NYPD'S 62nd Precinct welcomed a new commanding officer last week.
Captain Anthony Sanseverino, who spent the last two years as the executive officer at the NYPD's 70th Precinct — which includes Ditmas Park, Flatbush, and Midwood — comes with a wealth of community policing experience.
At a recent 70th Precinct Community Council Meeting, community leaders said goodbye to Sanseverino, praising him for his commitment to the precinct, reports our sister site Ditmas Park Corner:
Other community leaders lamented Sanseverino's departure, including Community Council President Ed Powell, who lauded Sanseverino's commitment to the precinct. Rabbi Perlstein, a clergy liaison to the council, noted that, "as tall as Anthony is, he never looks down at anyone. That's why he's successful and is gonna continue to be successful." And Tamika Williamson, the council's former vice president, said she was "super depressed" to wave goodbye to the executive officer. "I hope whoever comes in to replace you is as sincere and dedicated to solving our issues as you are," she said.
Last week, Sanseverino introduced himself to Bensonhurst's Asian American community at the Salvation Army location at 7309-7321 18th Avenue.
Meanwhile, Captain William Taylor, who has been with the 62nd Precinct for the last two years, hasn't moved far, taking over at the helm at the NYPD's 60th Precinct, which includes Coney Island, Seagate, and parts of Brighton Beach.
Here he is with Councilman Chaim Deutsch and members of Brooklyn Community Board 13:
Under Taylor's leadership, the 62nd Precinct nailed some of the area's most notorious burglars and drug dealers, bringing crime rates in Bensonhurst and Bath Beach to an all-time low. Taylor also tackled burglary patterns targeting the Asian American community around Lunar New Year, Christmas season credit card theft and package swiping, teens harassing Asian-owned stores on Bay Parkway, and various other quality-of-life concerns.
Welcome Captain Sanseverino, farewell Captain Taylor, and good luck!