61st Precinct Crime Statistics: 4/12 – 4/18/2010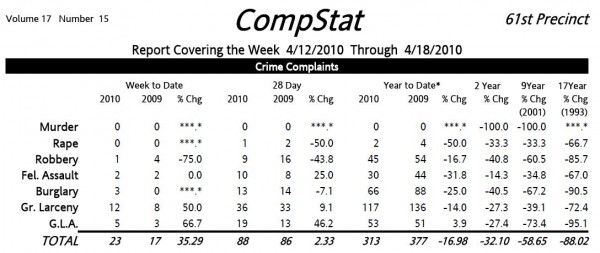 The stats from this week's 19-or-so car break-in will be accounted for in the next CompStat report. Expect the ever narrowing gap in crime reduction to shrink even further.
CompStat reports are produced by the New York Police Department on a weekly basis. As a new feature on Sheepshead Bites, we'll be summarizing the week's statistics for the 61st Precinct as the reports become available (usually on Monday, one week after the closing date). The 61st Precinct is the police command responsible for Sheepshead Bay, Gravesend, Kings Highway, Homecrest, Madison, Manhattan Beach, and Gerritsen Beach.