61st Precinct Crime Statistics: 1/31 – 2/6/2011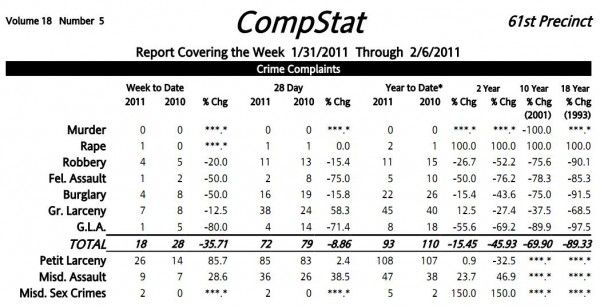 It's been a few weeks since the last time we ran the CompStat report, and we're happy to bring it back again. But we're even happier to see that, in the time we missed, the NYPD has added three new categories to the reports – petit larceny, misdemeanor assault and misdemeanor sex crimes. The three new categories don't figure into the total – which only accounts for the seven major categories – but do give us a better idea of how minor crime incidents are affecting our area. What we see is that, while the major crimes remain down, all three minor crime categories are up in the year to date, as well as the 28 day. We'll have more on this soon.
CompStat reports are produced by the New York Police Department on a weekly basis. We summarize the week's statistics for the 61st Precinct reports every Friday. The 61st Precinct is the police command responsible for Sheepshead Bay, Gravesend, Kings Highway, Homecrest, Madison, Manhattan Beach, and Gerritsen Beach.