5th Annual Brooklyn Americana Music Festival: 50 Shows Across 7 Venues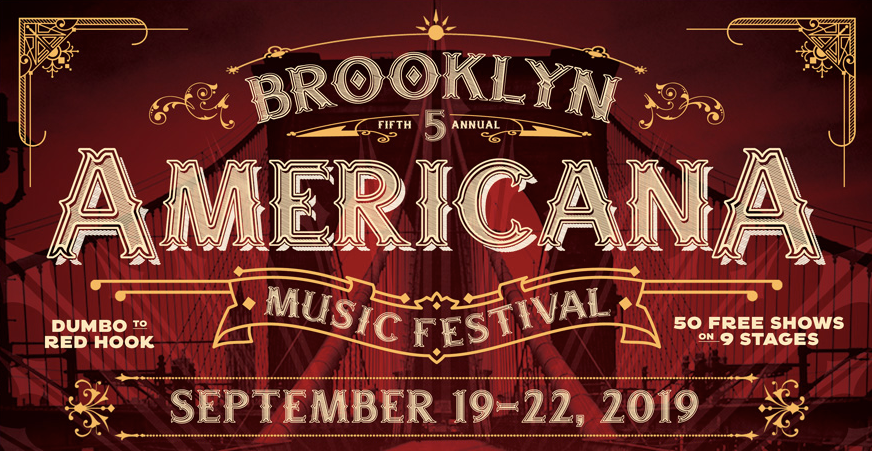 DUMBO/RED HOOK – Fans of Americana music will get the chance to catch dozens of shows taking place this weekend at popular waterfront watering holes from DUMBO to Red Hook.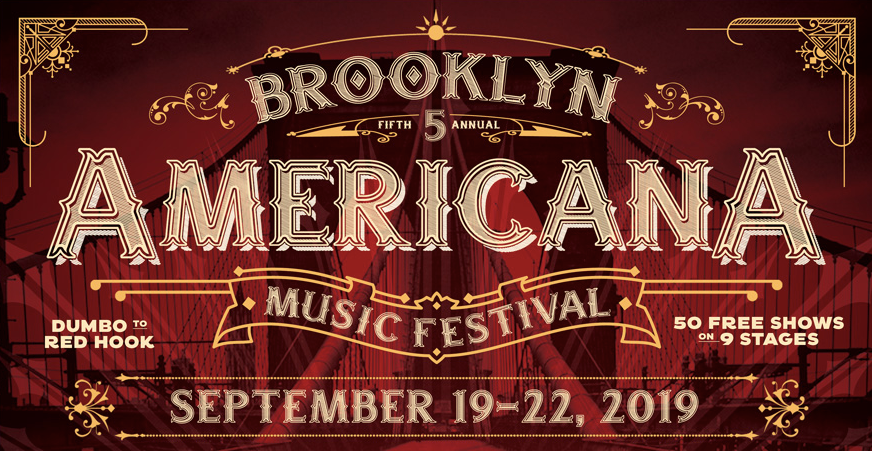 The 5th Annual Brooklyn Americana Music Festival returns, presenting Americana, folk, roots, blues, country, bluegrass, and jazz on nine stages. The Fest will feature 50 shows by local musicians as well as performers from New Orleans, Nashville, Austin, Seattle, Louisville, Birmingham, and Dublin, Ireland.
The Archway Under the Manhattan Bridge will host free daytime performances while Pier 6 at Brooklyn Bridge Park will host the Women's Stage. Evening concerts will take place at "beloved pioneer waterfront establishments" including Jalopy Theatre (315 Columbia St.), Jalopy Tavern (317 Columbia St.), and Sunny's Bar (253 Conover St.) in Red Hook, and 68 Jay Street Bar and Superfine (126 Front St.) in DUMBO.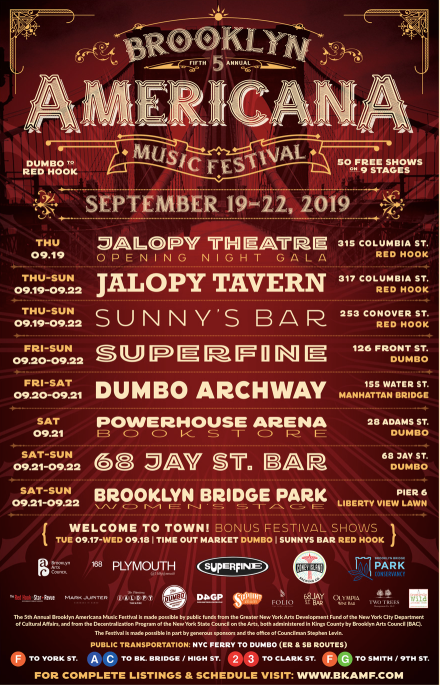 The fun kicks off on Wednesday, Sept. 18 with Nashville, Indiana's Will Scott at the new Time Out Market NY (55 Water St.) rooftop stage (6:30pm-8:30pm) and a dance party with New Orleans' Sabine & the Dew Drops at 9pm at Sunny's Bar.
The official Brooklyn Americana Music Festival opening night gala happens on Thursday, Sept. 19 at 8pm at Jalopy Theater, hosted by Jan Bell & The Maybelles and featuring Dayna Kurtz, Megan Palmer, and Underhill Rose ($25). Next door at Jalopy Tavern, more music will be provided by The Troubadours of Divine Bliss, The Annie Ford Band, and Sabine and the Dew Drops.
Five bands playing a free show will take over the DUMBO Archway from 5pm to 10pm on Friday, Sept. 20, and the Women's Stage in Brooklyn Bridge Park will feature an all-female lineup performing country, folk, blues, old-time, bluegrass, and jazz on Saturday and Sunday, Sept. 21-22.
The Festival winds down on Sunday (Sept. 22) with a bluegrass brunch and live music at Superfine and shows at 68 Jay Street Bar, Sunny's and Jalopy Tavern.
The 5th Annual Brooklyn Americana Music Festival is funded by Brooklyn Arts Council, NYS Council on the Arts, and NYC Department of Cultural Affairs.
Check out the full schedule and lineup of performers at bkamf.com.
5th Annual Brooklyn Americana Music Festival
Wednesday, September 18 – Sunday, September 22
Various locations in DUMBO and Red Hook