5 Things You Need To Know About Sal Albanese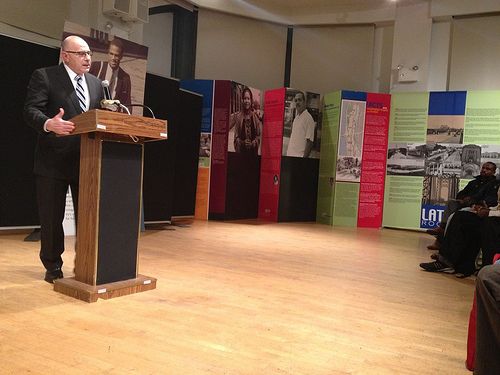 Sal Albanese is running for mayor and your're probably thinking, that name sounds familiar, where do I remember him from? Well, the crack researchers at Bensonhurst Bean are here to give you FIVE incredibly detailed vital must-know facts about Albanese so you can be informed like no other New York political junkie. Without further ado, here is the exhaustive list.
1. He's Italian, 2. He was a councilman, 3. He's a Democrat, 4. He's from Bay Ridge and 5. He is bald. Thanks for reading! Now take your Sal Albanese knowledge and inform the world!
Wait, sorry, that's not incredibly informative. Let me try again.
This is his third run for mayor – Albanese is no stranger to the biggest stage of New York City politics. He is high on ambition but low on big victories. His first foray into the world of national stage politics came in 1992 when he ran for Congress in New York's 13th Congressional District. He lost to Republican Susan Molinari by 18 percentage points. His first run for mayor came 16 years ago in 1997. He came in third in the New York primary, earning 21 percent of the vote. He finished behind Al Sharpton and Ruth Messinger. He briefly entered the 2000 race for mayor but dropped out early due to fundraising difficulties.
He's a liberal in a conservative world – Albanese's remarkable career in the City Council bucked the odds. Representing Bay Ridge, Dyker Heights and Bensonhurst, traditionally conservative leaning districts, Albanese was a liberal Democrat. He represented these areas for over 15 years from 1982 to 1997. Albanese was a big advocate of Mayor David Dinkins, supports gay rights and fought hard to increase the minimum wage. His 1996 New York City Living Wage Bill passed, much to the opposition and ire of Rudy Giuliani. According to the New York Times, Albanese was popular in his districts because of the high level of attention he paid to people in his district who came to him with their problems. Since leaving the City Council, Albanese's most recent foray into politics came when he ran as a delegate for Barack Obama. What's a delegate? They are the people who cast their votes on behalf of their chosen candidate  at the national party conventions.
Albanese also has an independent streak – While the former councilman shrugged off opposition for his more liberal beliefs (protesters picketed his home after his staunch support for a 1986 gay rights bill), Albanese refused to toe the party line, much to the annoyance of his fellow Democrats on the council. Albanese was stripped of committee chairmanships three times in his political career for voting how he felt, not how he was told. His decision to run as a delegate for Barack Obama instead of New York-favorite Hillary Clinton in 2008 was also a bold break from local political pressure at the time.
He has a strong financial background – Since leaving politics in 1997, Albanese has immersed himself in the business world, serving as a Marketing Director for INVESCO and then as the Managing Director of Institutional Sales & Marketing for Mesirow Financial. Since announcing his latest mayoral bid, Albanese has had no shortage of ideas in attempting to solve the city's long term fiscal problems. According to a report in BK Bureau, he doesn't want to create new surcharge taxes on those making more than $500,000 a year in fear of driving higher income residents from the city. He also believes that the city's pension fund is not the source of the city's economic problems, but rather, he wants to limit the amount of overtime city workers can rack up right before they retire. He also wants to hire 3,800 new cops and divvy them up based on the frequency of radio runs each district gets. He also stated his support for the controversial stop-and-frisk program, but argues that policemen must be intensely and consistently trained on the proper administration of the tactic.
He has been silent on major city issues since 1997 – Albanese's voice has not been heard on city issues since he left politics in 1997. Albanese admits that his absence is likely his biggest challenge. A lot of New Yorkers have forgotten him and he has a lot of ground to make up both in his financial war chest and in his visibility among voters. While Albanese has been absent from city politics for over a decade, he is confident that if he gets his message out, he can connect to voters. He summed up his rational to run to BK Bureau:
"I came here as an immigrant at the age of eight. The city is 40 percent immigrant-based. I went to New York City public schools. I went to the City University of New York. I mean, I'm a New York City story. I spent 15 years in government, 15 years in the private sector," he says. "Our challenge is going to be raising enough money to get our message out. I think we're going to be able to do it."