40 Years Later, Stained Glass Master Peter Romano Still Brightening Up Park Slope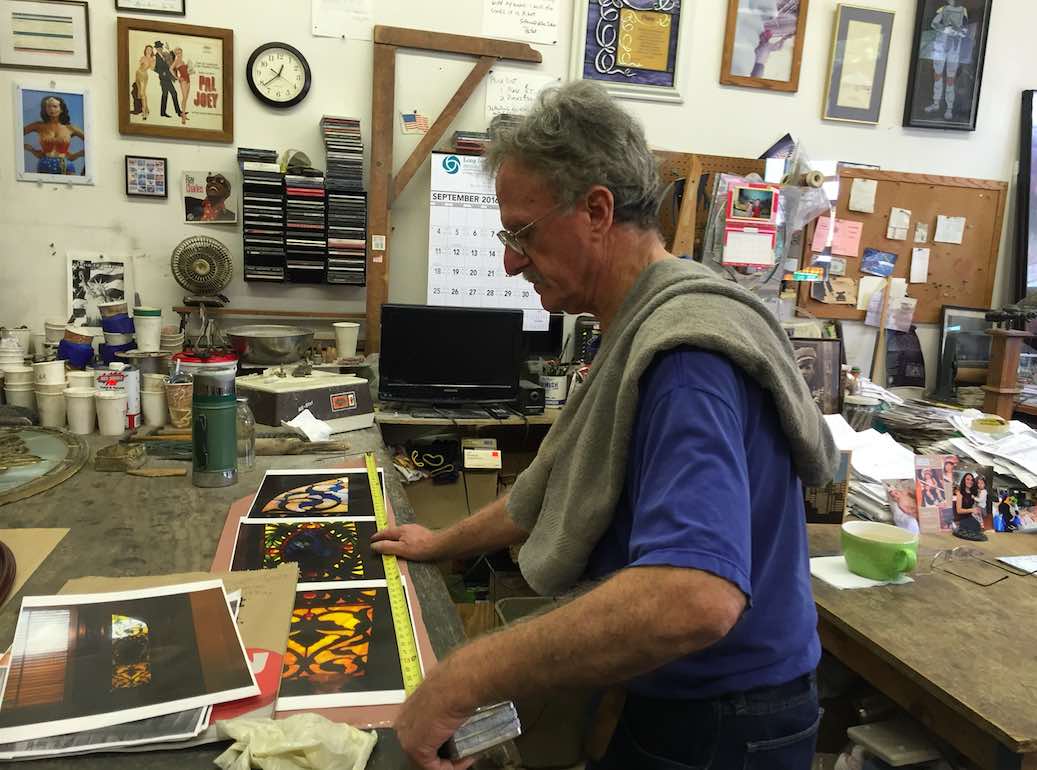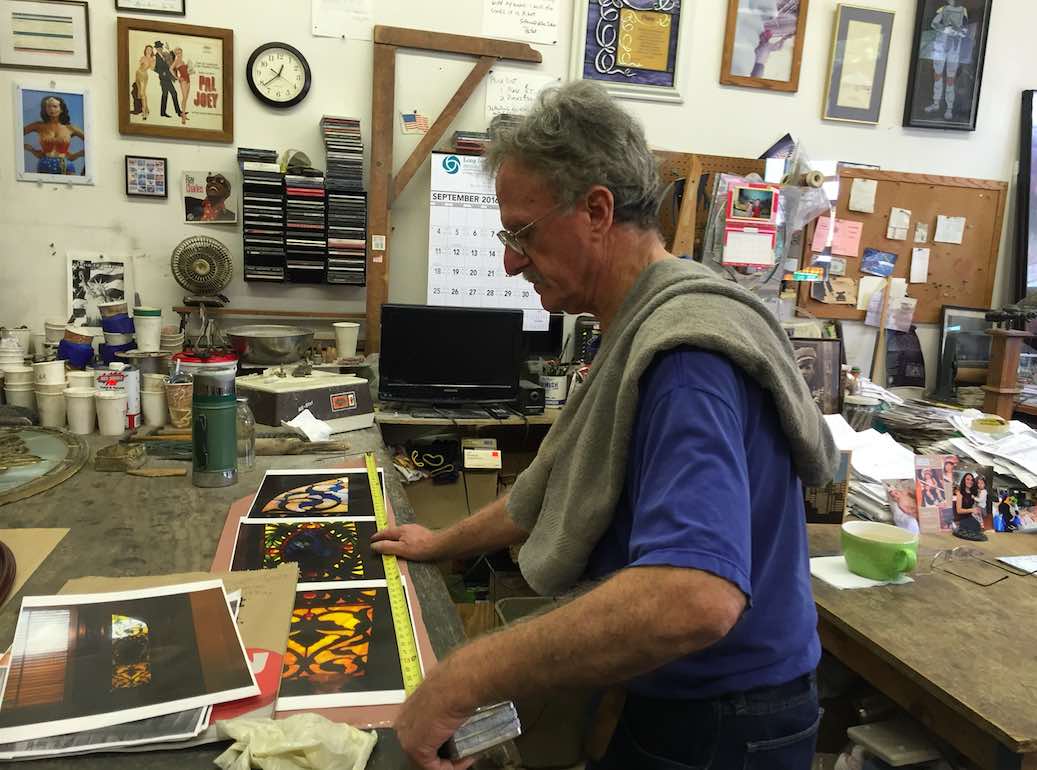 After working at his stained glass window business for the last 40 years in Park Slope, owner Peter Romano refuses to have the word "retirement" as part of both his vocabulary and future plans.
At 72, he always busy because he is the only one in the area – and the only one in the Stained Glass Store itself — to provide people with pieces of handmade art. Romano said he never expected to make a career out of building stained glass windows. After serving in the Vietnam War, he eked out a living as a 'boom and bust' road construction worker, but had no real plans until his cousin called him randomly one day.
"My cousin called me on a Sunday and said, 'I have a great idea for a business and we'll do stained glass.' I knew what it was, but I never cut glass," Romano said.
"She said, 'Listen, we'll hire the woman who is teaching me in the class at the Brooklyn Museum two days a week, and she's going to teach us how to do it. I said, 'Lucille, I have no money,' but we took out a $7500 loan from the Greenpoint Savings Bank, and that's how we started."
From 1976 until 1980, Romano worked side-by-side with his cousin, until she lost interest and he bought her out. Since then, he has been on his own – creating, restoring, repairing, and selling unique stained glass pieces to contractors, residents, and businesses.
"Keep doing this because nobody else does!" a customer says while leaving the store, which is still a staple of the neighborhood given its long history and unique services.
Once Romano says goodbye, he picks up the handset from his landline phone to answer a call. While he listens and responds to a customer's question, natural sunlight pours in from the storefront, allowing a variety of colors to cast onto Romano's workspaces.
The iconic figures and fighting stances of stained glassed Spiderman, Captain America, Batman and Superman not only guard the right side of the storefront's windows, but also highlight Romano's craftsmanship and eye for details. These four, large pieces that he made himself are up for sale at $900 each.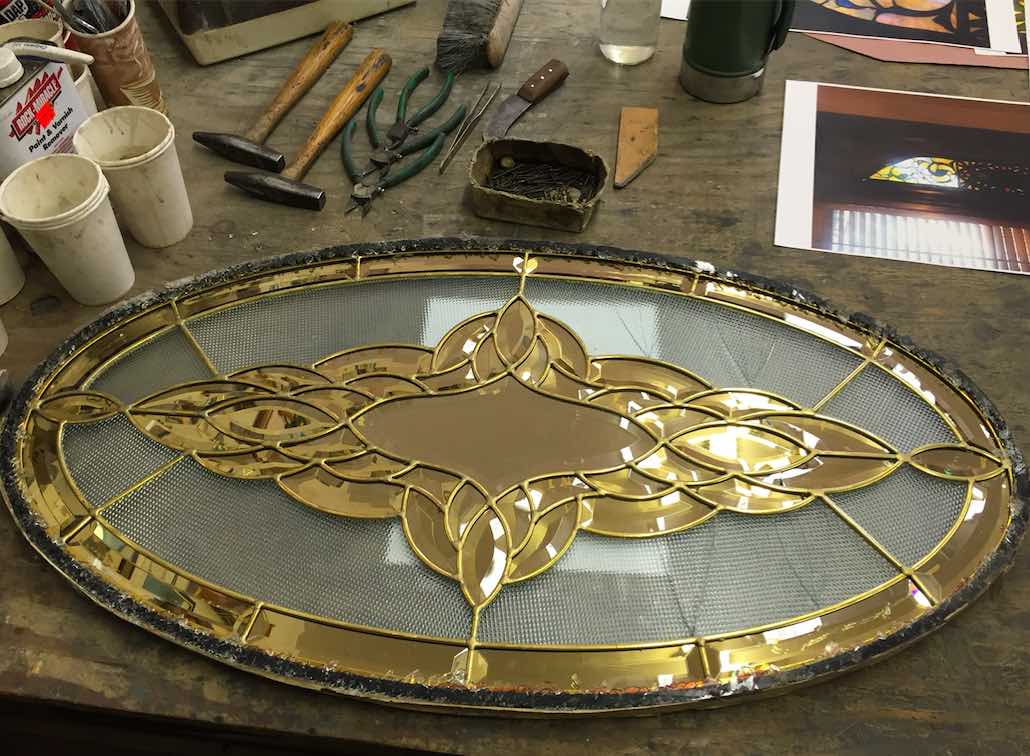 After hanging up, he moves onto other projects for the day. He places a window that needs to be cleaned on a wooden table, and then rolls out a pattern he had been working on for a client's home on another table.
Once the client stops by, they can look over the design, price out how much the glass will cost and pick out the right color schemes. When he has the glass in his possession, he will cut it in a delicate, but precise manner, which has been honed over many decades of practice and perfection.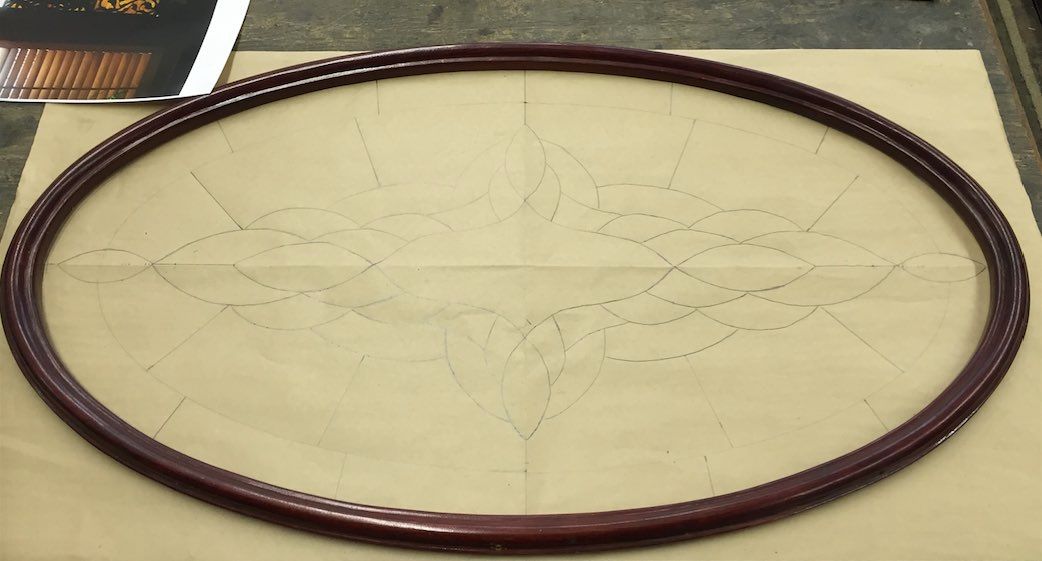 Once that is carefully and strategically done, he can compose what looks like a jigsaw puzzle with the glass pieces on outlined brown paper. He then will prepare the right amount of lead and use the came, a slender, grooved lead rod used to hold together panes of glass.
After he can apply putty between the came and glass with a putty knife and solder the joints together to make a complete product within the frame. However, on any given day, he can have between one and five projects to work on and complete, depending on the complexity and tasks for each.
Mary Louise Clemens, owner of Ladybird Bakery, consulted with Romano 20 years ago when she first wanted stained glass for her storefront. She said since it was hard to put signs outside, she went to Romano's shop across the block on the opposing corner.
He designed her pieces that featured solid colors, geometric shapes and red hens to match up with the bakery's name. Today the pieces still stand but with some modifications, of course. Clemens said she went back to Romano, so that he could restore them, good as new.
"They contribute homeyness to the whole bakery and to the feel of it," said Clemens said.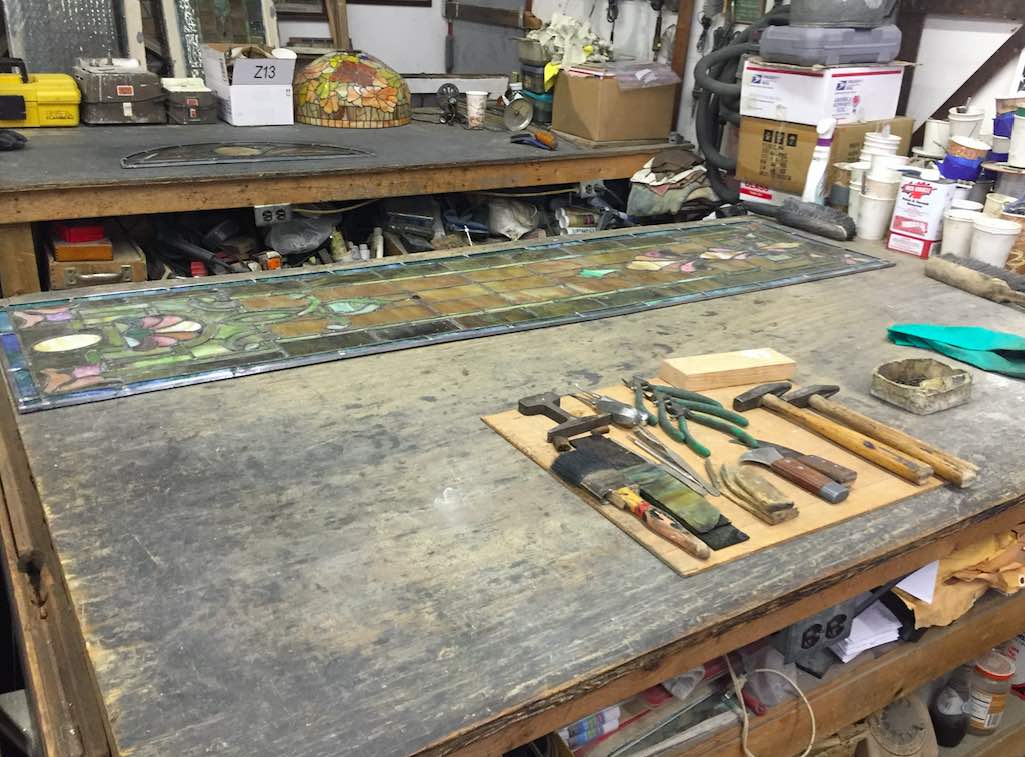 Though Romano has not recently collaborated with local places of worship, because the task at hand would require more manpower, Reverend Thomas Ahern of St. Augustine Roman Catholic Church says stained glass has always helped tell important stories to parishioners.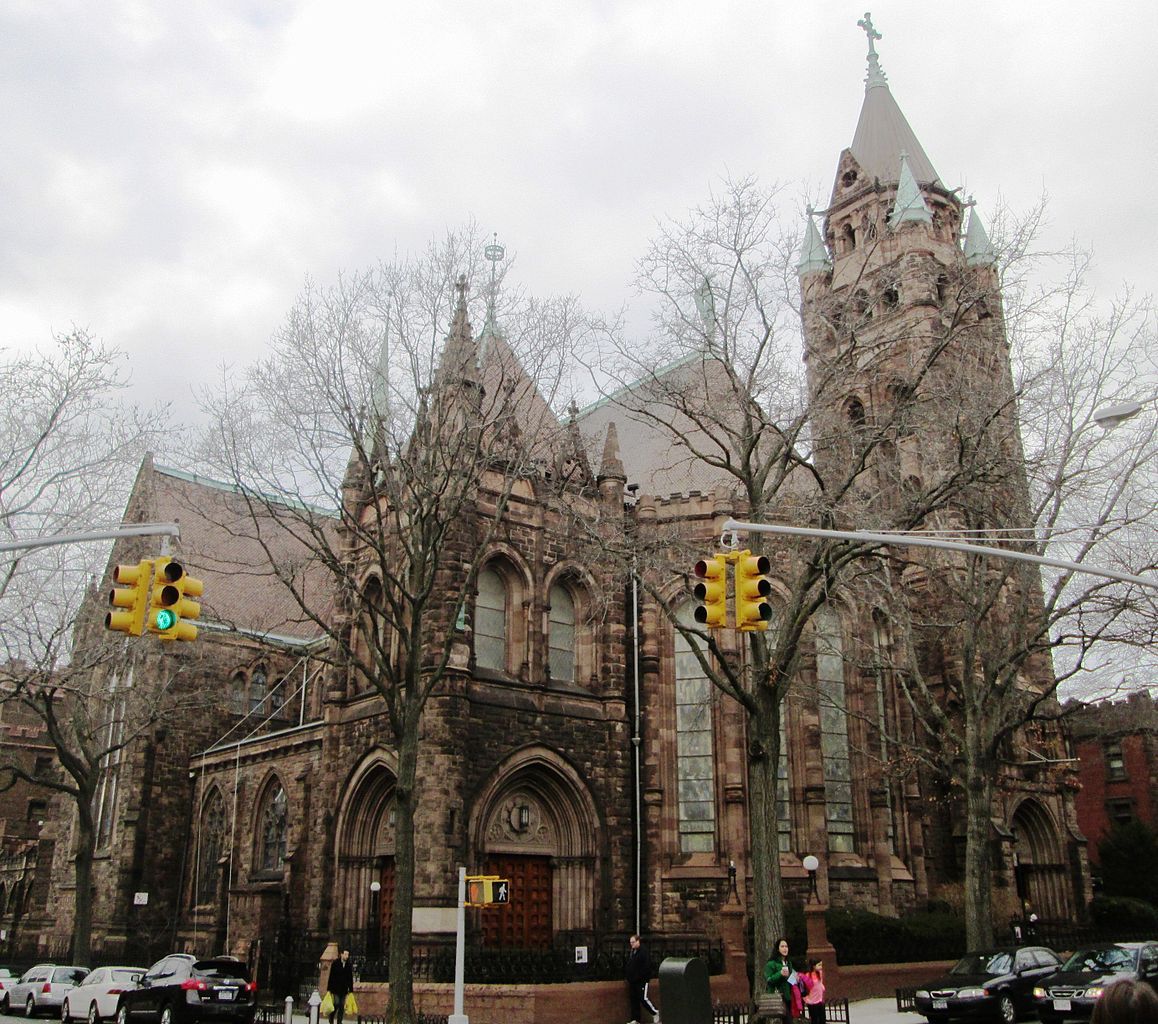 "When you're in this church you focus first on Christ always, then on St. Augustine's life, St. Monica's life, and the altar. And all the windows above the organ have to do with saints or figures from the Old Testament that have to do with music," Ahern said in regards to his church's stained glass windows.
"So people coming in would know that – even though all Catholic churches have Stations of the Cross, stained glass, a tabernacle – this has its own personality as St. Augustine's Parish. The stained glass was meant to not only be beautiful, but to instruct, to enlighten, to spiritually uplift."
But as he celebrates his fortieth year as "the" stained glass pro of Park Slope, Romano said he hopes to continue creating works of art and working with glass and customers, both old and new.
Peter Romano's Stained Glass Store is located at 300 5th Avenue (between 1st and 2nd Streets) in Park Slope. You can reach him at 718-768-7964.