4 New Public Artworks Coming To BAM
FORT GREENE – The Brooklyn Academy of Music (BAM) announced on Tuesday the commission of four new site-specific artworks by three renowned artists that will be exhibited across the organization's Fort Greene campus.
As part of the Robert W. Wilson Public Art Initiative, and funded by a $3.5 million gift from the Robert W. Wilson Charitable Trust, the public will soon be able to enjoy works by Teresita Fernández, Leo Villareal, and Hank Willis Thomas.
A large-scale sculpture, Paradise Parados, by Brooklyn-based artist Teresita Fernández, will be displayed on the outdoor terrace above the new Rudin Family Gallery at BAM Strong. The building at 651 Fulton Street will be the organization's first exhibition space dedicated to visual art when it debuts in October. The work is "designed to reflect the changing light of the day and seasons, passersby, street activity, and the dynamic urban surroundings," according to the announcement. Visitors will be able to walk beneath and around the immersive piece.
Conceptual artist Hank Willis Thomas will create an original piece for BAM's Peter Jay Sharp Building at 30 Lafayette Avenue. The work will be displayed on the building's rear wall, facing BAM Fisher, to "examine the site's specific history and highlight how the past continues to be present."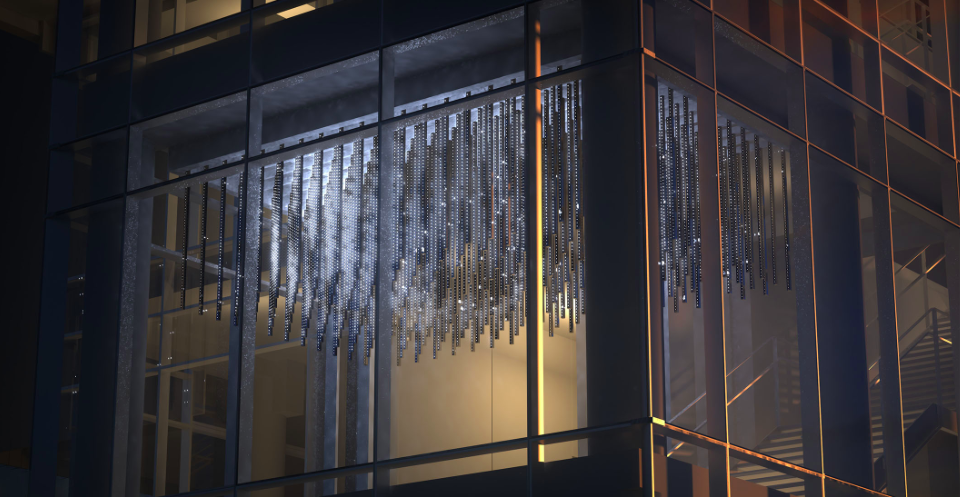 Artist Leo Villareal's LED sculpture, Light Matrix, will illuminate BAM Fisher's (321 Ashland Place) third-story windows, while another of his large-scale light installations, Volume (BAM), will be exhibited at the "soon-to-be-constructed" BAM Karen planned for 300 Ashland.
Volume (BAM) will consist of more than 11,000 LEDs embedded within 441 mirrored, stainless steel rods. The piece will hang in front of floor-to-ceiling windows on the second floor of the BAM Karen site.
Light Matrix will be composed of 3,500 LEDs arranged according to the rectangular grid of BAM Fisher's windows. Circular patterns will be lit to echo Stars, Villareal's existing work that lights up the arched windows of the Peter Jay Sharp Building. Stars and the four new pieces will be part of the BAM/Robert W. Wilson Public Art initiative, according to the announcement. BAM will award one additional artist commission for a site-specific work on the BAM campus. These six artworks will connect BAM's venues while introducing new public artwork to the neighborhood.