Commemorate the 242nd Anniversary Of The Battle Of Brooklyn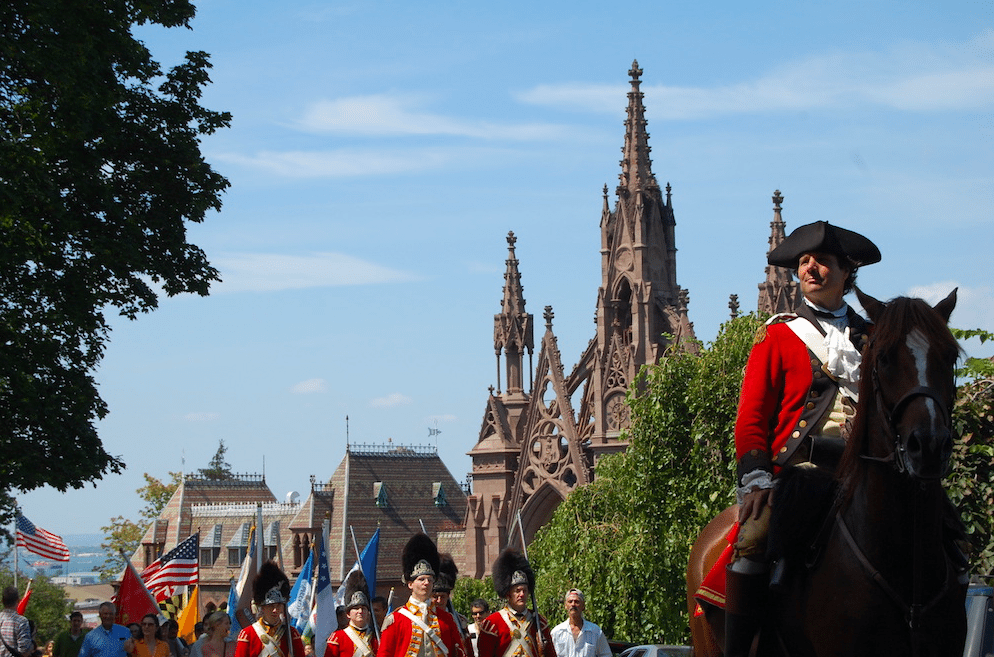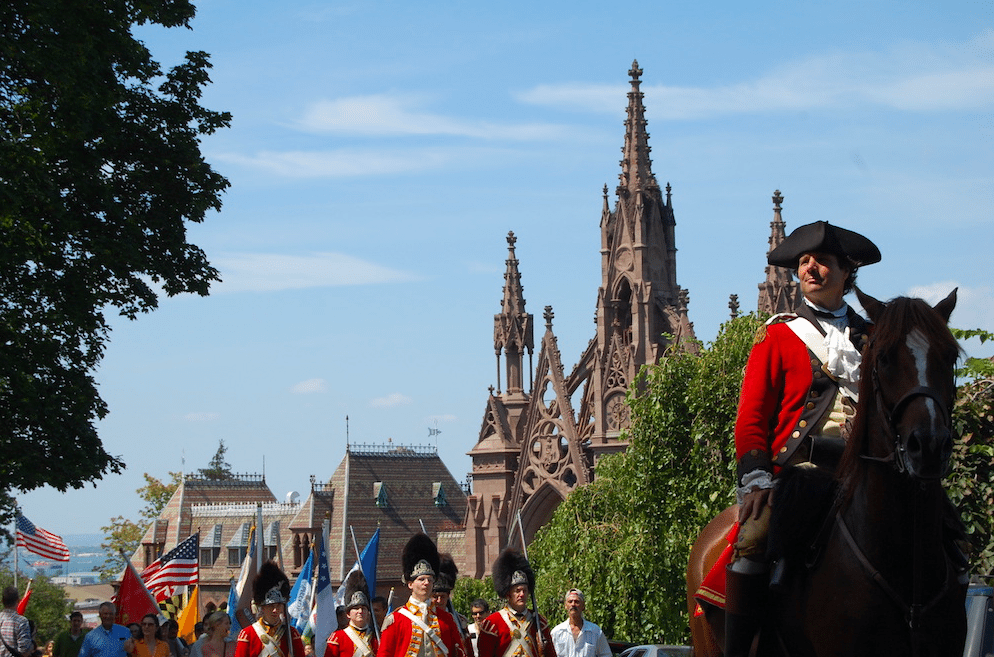 On August 27, 1776, British troops advanced towards the American solider camp in Brooklyn Heights. For those familiar with the history of The Battle of Brooklyn (also known as The Battle of Long Island or The Battle of Brooklyn Heights), the outcome was a British victory.
More than 1,000 Americans were either killed or captured, and the British would control Brooklyn and Manhattan for almost seven years.
Even though we lost the battle, we won the war. Commemorate Brooklyn's revolutionary history with events—including war reenactments, exhibitions, and walking tours—taking place in the neighborhoods where the battle was fought.
Below is a list of upcoming commemorative events. For more details, visit the Battle Week section of the Old Stone House website.
To learn more about the Battle of Brooklyn, visit The Old Stone House: Witness to War—An  Exhibit Exploring the Battle of Brooklyn and the Occupation, 1776-1783. The permanent exhibition is on view Saturdays and Sundays from 11am to 4pm.

A Taste of Revolution at The Green-Wood Cemetery
When: Wednesday, August 22, 7pm to 8:30pm
Where: The Green-Wood Cemetery, 5th Avenue at 25th Street
What: Mark the 242nd anniversary of the Battle of Brooklyn by exploring some of the tastes of Revolutionary-era America. Food historian Tonya Hopkins will be joined by Brooklyn-based cider-makers Joy Doumis and Jeremy Hammond for a talk and tasting. Learn how cider was made and how Doumis and Hammond make their own using apples picked from Green-Wood. The event is 21-plus.
How Much: Tickets $30, $25 for Green-Wood members
Gowanus Dredgers Battle Paddle
When: Wednesday, August 22, 6pm-8pm
Where: Gowanus Dredgers Canoe Club, 165 2nd Street (near Bond Street), Gowanus
What: Learn the History of Gowanus at the Dredgers 2nd Street dock. Loyalists and revolutionaries are invited to join a canoe tour of the battle voyages and to demand shorelines without barriers (similar to Dutch canals). At 6:15pm, there will be a reading of Walt Whitman's poem The Centenarian's Story.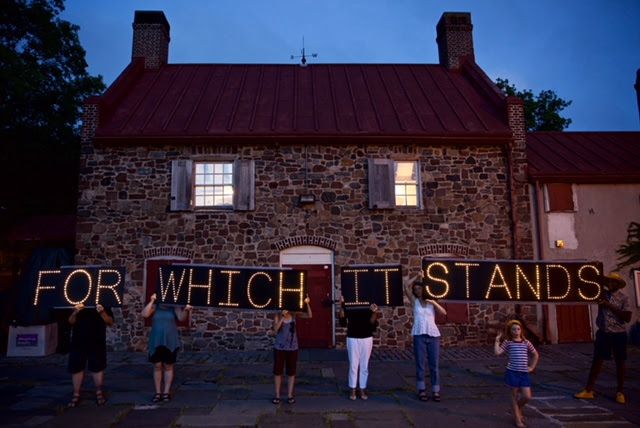 Exhibition Opening: For Which It Stands
When: Thursday, August 23, 7pm to 9pm (exhibition on view through October 14, Fridays 3pm to 6pm or by appointment)
Where: The Old Stone House, 336 3rd Street (between 4th & 5th Avenues), Park Slope
What: The Old Stone House presents this contemporary art exhibition that connects Brooklyn's revolutionary history to some of today's most pressing issues. Artists reinterpret and offer their "fresh take on the flags of the American Revolution and today, including the contradictions inherent in their symbolism."
Prison Ships Martyrs Memorial Ceremony
When: Saturday, August 25, 10am to 11:30am
Where: Fort Greene Park, Prison Ship Martyrs Monument (Dekalb Ave & Washington Park), Fort Greene
What: The Society of Old Brooklynites hosts the 110th annual Prison Ship Martyrs Rememberance Commemoration at the base of the Prison Ship Martyrs Monument. The memorial will include a maritime piping ceremony, the National Anthem, and a wreath laying ceremony.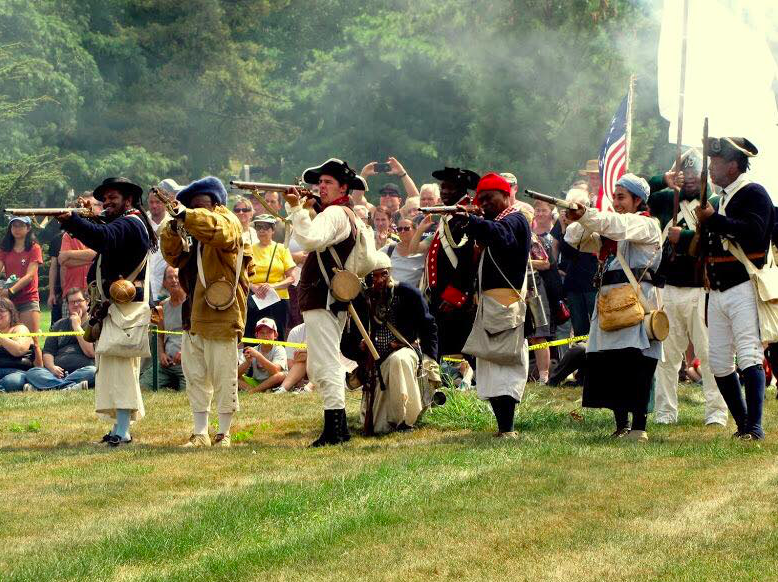 Battle of Brooklyn Neighborhood Walk
When: Saturday, August 25, 2pm–4pm
Where: Meet at Grand Army Plaza entrance to Prospect Park (NW corner), Park Slope
What: A walk through the Battle past of Prospect Park and the Park Slope neighborhood led by Old Stone House Board Member and Hunter College Archaeology Professor William J. Parry. Wear comfortable shoes.
How Much: Tickets $12/$10 OSH members; includes light refreshments. Advance tickets recommended.
Battle of Brooklyn Monuments Tour
When: Sunday, August 26, 11am-12pm
Where: Lefferts Historic House, 452 Flatbush Avenue (near Empire Boulevard), Prospect-Lefferts Gardens
What: A guided tour hosted by the Prospect Park Alliance that starts at the Lefferts Historic House and heads down East Drive, where attendees will see some of Prospect Park's Revolutionary War monuments.
How Much: Tickets $10 – SOLD OUT
Battle of Brooklyn Commemoration at The Green-Wood Cemetery
When: Sunday, August 26, 10am–3pm
Where: The Green-Wood Cemetery, 500 25th Street (at 5th Avenue), Greenwood
What: Green-Wood celebrates the Battle with its annual day of family-friendly events including American and British troop re-enactors, Revolutionary War-era music, a trolley tour (sold out), a parade of flags, demonstrations of artillery, and more. See schedule of events below.
How Much: Except for the trolley tour, the below events at Green-Wood Cemetery are free, but please register online in advance.
10:00am – TROLLEY TOUR: Green-Wood historian Jeff Richman and author/historian Barnet Schecter host a trolley tour through the cemetery. (RESERVATIONS REQUIRED) SOLD OUT
11am – LIFE ON THE BATTLEFIELD: Meet soldiers, their horses, and famous colonial Americans. Historic re-enactors will demonstrate revolutionary weapons and tactics.
12:30pm – BATTLE OF BROOKLYN PARADE: Grab a Revolutionary regiment flag, wave it high, and march to Battle Hill with The Regimental Band of the United States Merchant Marine Academy. Begins at the main gate.
1:15pm – COMMEMORATIVE CEREMONY: Honor the spirit and heroes of the Battle of Brooklyn at this commemoration on Battle Hill, overlooking New York Harbor.