10 Brooklyn shops to buy Holiday gifts: HOME ACCESSORIES, GADGETS & SERVICES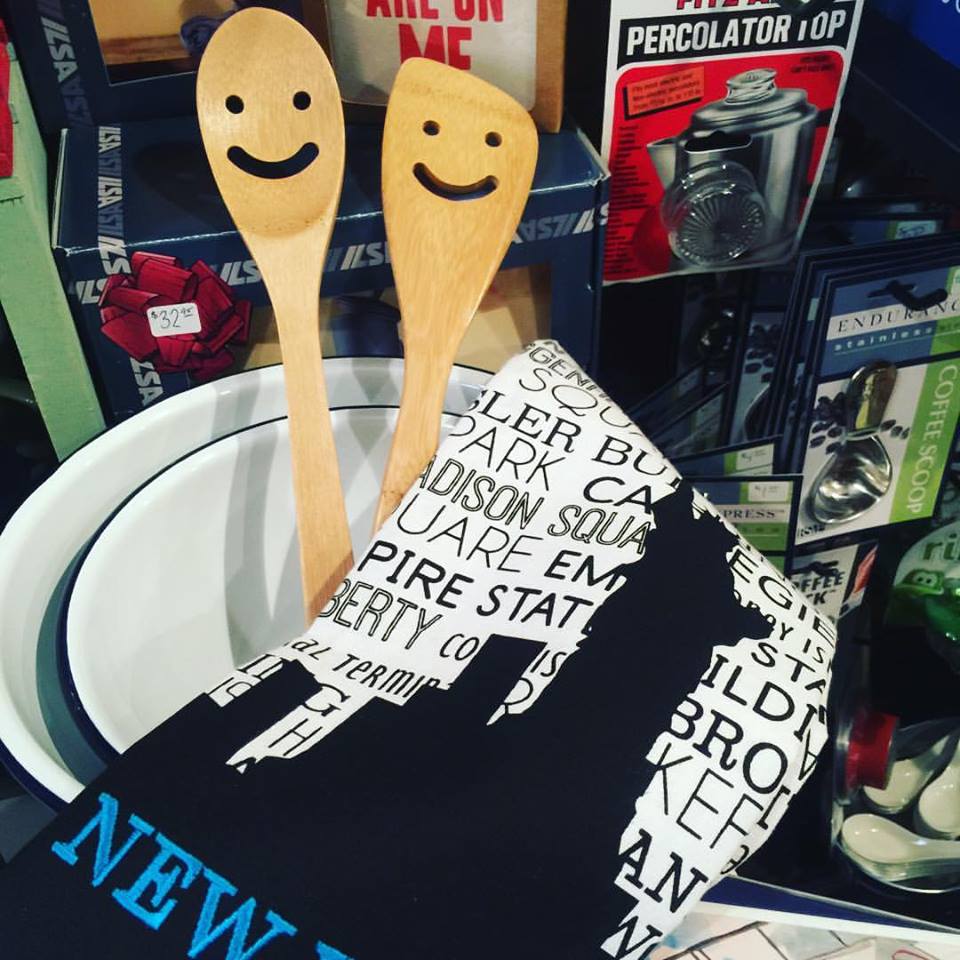 Holidays are for giving and receiving – from interesting accents for the home, gadgets for the person who has everything to the gift of crossing items of your to-do list.  This week we highlight shops and services across Brooklyn that say happy holidays to the special people in your life!
Umbrella, Inc.
Everyday tasks for seniors, by seniors
Now serving Park Slope, Windsor Terrace and Prospect Heights, Brooklyn
http://askumbrella.com/
Gift your senior loved ones an Umbrella membership and help them get things done around their home. Seniors book Umbrella Handy Neighbors by phone for odd jobs, like changing light bulbs, house cleaning, painting, errands, etc. Most Umbrella Handy Neighbors are themselves retirees– creating a great peer-to-peer community of seniors-helping-seniors. Through December 1st, your first two tasks free!
Sterling Place
Boerum Hill, Downtown Brooklyn
363 Atlantic Ave
Brooklyn, NY 11217
(718) 797-5667
http://www.sterlingplace.com/
Sterling Place specializes in sourcing unusual and eye-catching objects that will be sure to spark conversation in any home. The store has a terrific assortment of home decor and entertaining items, and an excellent selection of specialty gifts for both men and women. Men's gift ideas include a wonderful assortment of cufflinks, wallets, European shaving sets, and watches. Wide selection of everyday items like cards, artistic wrapping paper, and candles, too. Many eco-friendly choices available in all categories.
Two other locations:
Park Slope South
352 7th Avenue
at 10th Street
Brooklyn, NY 11215
Tel: 718-499-4800
North Park Slope
148 7th Avenue
at Garfield
Brooklyn, NY 11215
Tel: 718-788-1216
Peace & Riot
Bedford Stuyvesant
401-403 Tompkins Ave
Brooklyn, NY 11216
(347) 663-6100
peaceandriot.com
Peace and Riot is the retail post of Ibo Interiors. Brands: Younger Furniture (sofas and occasional chairs), K Hall, Pre de Provence, Bluewick Candles, Northern Lights Candles, Chronicle Books, Tatti Dolls. They also offer residential interior design services – Peace and Riot custom pillows, bedding and window treatments.
I Like Mikes Mid-Century Modern
Bedford Stuyvesant
161 Decatur St
Brooklyn, NY 11233
b/t Lewis Ave & Marcus Garvey Blvd
(917) 562-0292
Sat. 12:00 pm – 5:00 pm or by appointment
mikesmcm.com
Why buy new when you can buy better than new? I Like Mike's Mid Century Modern Furniture & Accessories offers the best of both worlds. Their pieces have the superior craftsmanship and materials of another era yet do not ask you to compromise your contemporary standards. Everything they sell has been meticulously curated, vetted, cleaned, and when necessary, restored.
Kitchening
Bay Ridge
8003 3rd Ave
Brooklyn, NY 11209
b/t 80th St & 81st St
(718) 745-6400
https://www.facebook.com/kitcheningbayridge/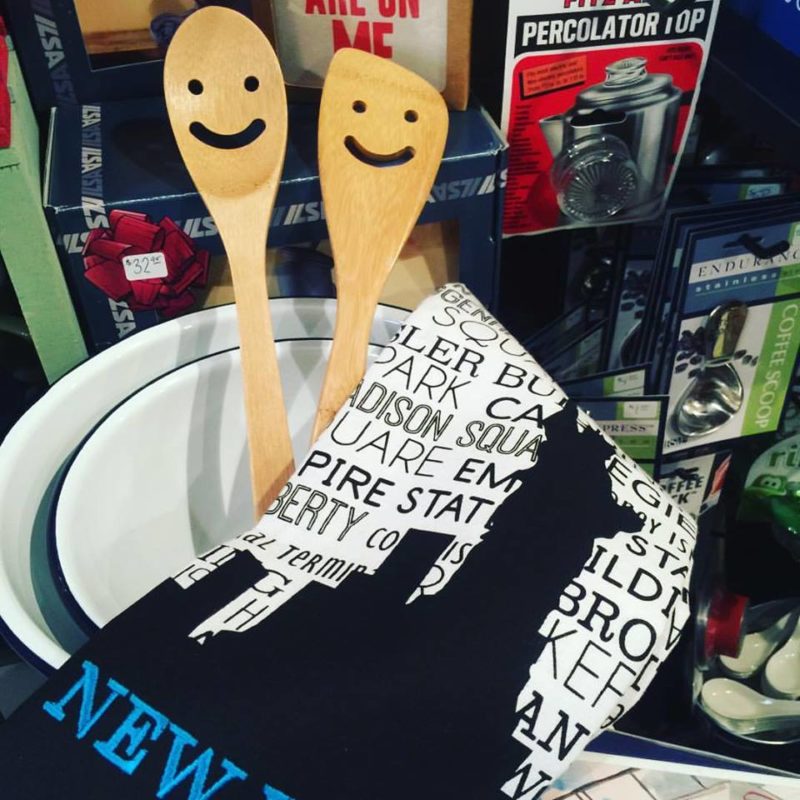 Kitchening is a small family owned and operated kitchenware business that strives to buy sustainable, local and American made products. They have many exclusive and unique gift items as well.  A wide variety of baking supplies, kitchen goods, cutlery, home decor, tabletop decor, grill items, flasks, dish towels, cleaning supplies, cooking supplies and cookbooks.
Items of Interest
Park Slope
60 5th Ave
Brooklyn, NY 11217
b/t St Marks Ave & Bergen St
(718) 404-9185
https://www.facebook.com/ioinyc/
Visit Items of Interest for a highly curated collection of home goods – a broad array of objects designed to bring visual interest and increased functionality to your home.  From custom upholstery and furniture to artwork to home accessories and inspiring gifts, Items of Interest is a landmark on the Brooklyn design scene.
Hunting With Jake
Boerum Hill
380 Atlantic Ave
Brooklyn, NY 11217
b/t Hoyt St & Bond St
(718) 522-6075
https://huntingwithjake.com/
Hunting With Jake is a destination for thoughtful goods and service. In this cozy Atlantic Avenue shop, you can expect a carefully selected assortment of vintage and antique finds mixed with new and unique wares. The owners scour the Northeast and beyond in search of vintage treasure and work with both local and distant designers and makers to create their offering of jewelry, personal accessories, tabletop, furniture, lighting, home goods, gifts, and apothecary.
Duman Home (2 locations)
Cobble Hill
213 Court St
Brooklyn, NY 11201
b/t Wyckoff St & Warren St
(718) 576-3331
https://www.facebook.com/DumanHomeCourtStreet/
Park Slope
139 5th Ave
Brooklyn, NY 11217
(718) 576-3145

Neighborhood store with a selection of great quality, and well-priced home goods like bed sheets, blankets and throws, pillows, comforters, towels, kitchen accessories, candles, seasonal and gift ideas. Duman Home offers all the essentials for the Brooklyn home – from locally crafted goods to trusted national names.
Cucina & Tavola
Williamsburg
235 Grand St
Williamsburg, NY 11211
b/t Driggs Ave & Roebling St
(718) 963-3131
http://cucinatavola.com/
The factory store in Williamsburg for some of the world's most recognized housewares brands, including Paderno, Rosenthal and Sambonet. The impressive list of designers ranges from Walter Gropius to Andy Warhol – and their selection of tableware, flatware, serving sets, utensils, and essentials will lighten up your life and home.
LEIF
Williamsburg
99 Grand Street
Brooklyn, New York 11249
(718) 302-5343
https://www.leifshop.com/
LEIF is a beautiful home store in Williamsburg that offers ceramics, baskets, stationery, pillows, candles etc. The LEIF lifestyle: growing indoor citrus trees, a collection of mismatched handmade ceramics, Meyer lemon butter on freshly baked scones, various breeds of succulents scattered throughout the home, a garden full of vegetables, a couch filled with vintage pillows, freshly cut flowers on a reclaimed wood kitchen table, trips to the farmers' market, linen sheets, slip-on sneakers and striped t-shirts on a Saturday.
The Holiday Gift Guide is part of BKLYNER's series to promote Shop Local, Shop in Brooklyn.  For more information email HERE.