Teens Take Charge – Education Panel On What It's Like To Be Left Behind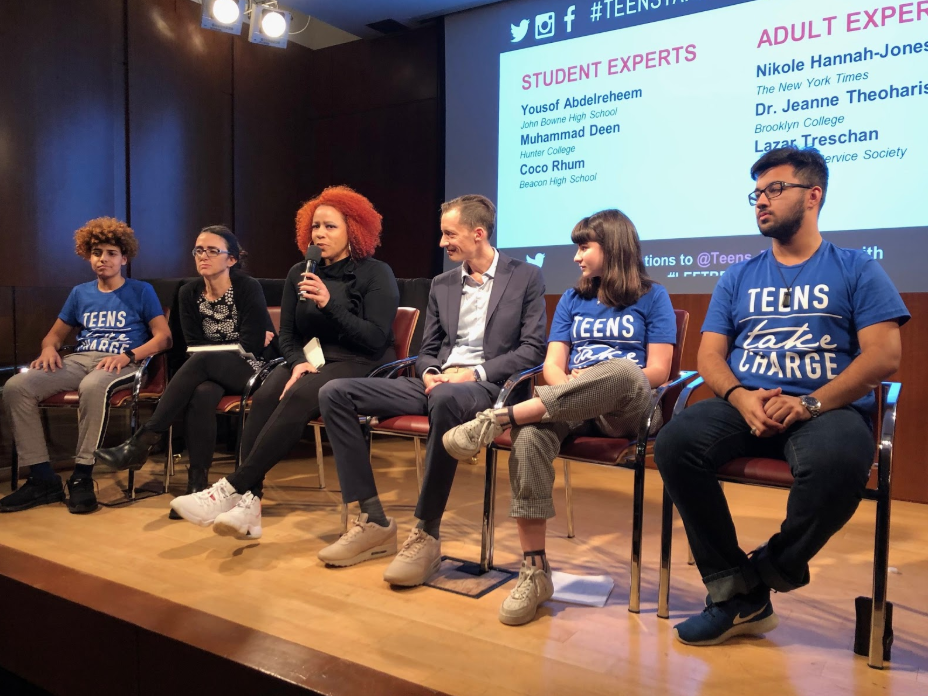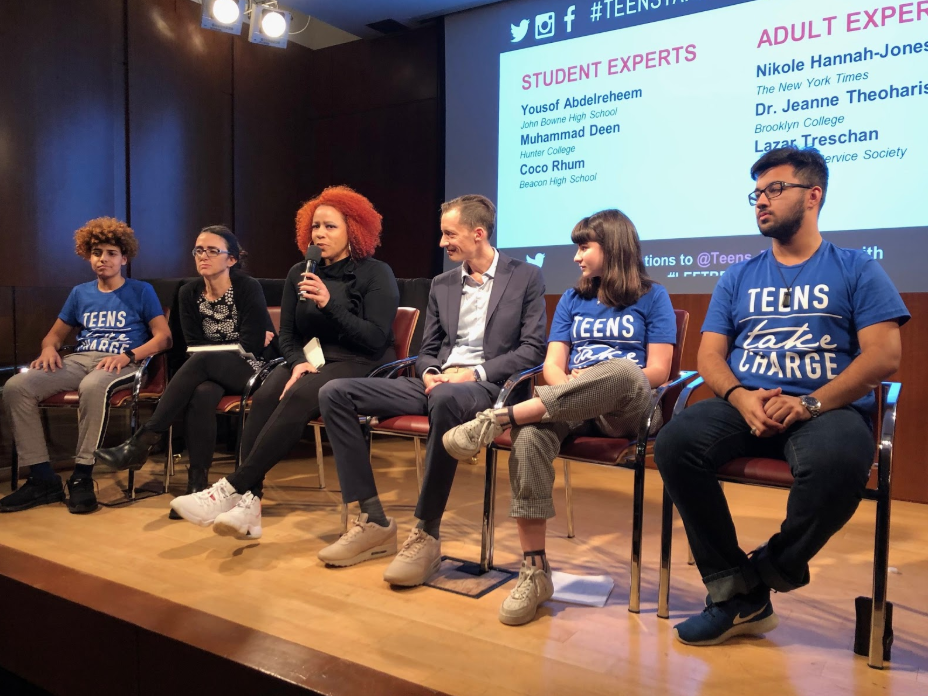 PROSPECT HEIGHTS – "We are here today because we are tired of this conversation being one-sided. It's always been about what the adults think the students need. But where are the students when they're having these conversations?" asked Sokhnadiarra Ndiaye, a student from Brooklyn College Academy High School. "We have a voice, too, you know! We're not just good for taking orders. We are constantly being left behind and ignored.
"Let me say that again, since we are usually ignored," Ndiaye added, drawing a knowing laugh from the audience at the Brooklyn Public Library last night. "Ladies and gentlemen, we are here to press 'unmute' on the voices that have been silenced. To give you perspectives that you don't usually see. To explain to you what it feels like to be a student in an education system that constantly feeds us false promises."
Ndiaye was standing onstage in the library's 189-seat Dweck Auditorium, looking out at a packed crowd of well over 200 students, parents, educators, concerned citizens, and elected officials. She wore a blue T-shirt emblazoned with the name "Teens Take Charge," the student-centered advocacy group responsible for the evening. The event was called "The Ones Left Behind," and was billed as a chance to hear "from public school students about how it feels to be left behind in the nation's largest and most segregated school system."
Ndiaye kicked off a tightly-orchestrated hour of student testimony from a diverse array of seventeen high school students. Their speeches and poems provided a window into the myriad manifestations of educational inequity, including the bullying experienced by Muslim students, the city's lack of consistent special education services, and the unequal distribution of athletic opportunities across New York's high schools.
Another scourge, a bit harder to pin down, is the pervasiveness of low expectations for low-income students of color. Allison Cachay Narva, a senior at a Queens high school, noted that "the college choices my school pushes me towards are the easiest ones," and figured it must be "because, you know, I'm used to getting scraps anyway." She told Bklyner that she relies heavily on the support of SEO Scholars, an outside organization that provides eight years of high school and college support for underserved students. With their help, she is now waiting on (hopefully good) news from Brown University, her top-choice school.
Tiffani Torres, a student at a Manhattan high school, also noted the outside support of SEO Scholars, and the extra work it takes to succeed when your school doesn't cut it. "In my four years of high school, I will have taken over 720 hours of supplemental education in English and Math," she told the crowd. "720 hours after school, during my weekends, and on my summers, making up for the education that was stolen from me."
Coco Rhum, a white student at Beacon High School, spoke about being on the other side of this equation. "While many of my peers have been unjustly left behind, I have not," Rhum said, noting that she had attended well-resourced and majority-white elementary, middle, and high schools, despite the fact that white students represent only 15% of the student body of New York's public schools. "I've had the privilege of navigating through the New York City public school system with the upper hand."
After the student testimony, Ndiaye returned to the stage. "I know some of you think the students just aren't enough—y'all want to hear from the adults," she said, tongue-in-cheek, eliciting another good-natured laugh from the crowd. "We're a little hurt, but we get it. That's why we have adult experts with us." She then introduced Dr. Jeanne Theoharis of Brooklyn College, Nikole Hannah-Jones of the New York Times, and Lazar Treschan of the Community Service Society of New York. All three of them knew who the real stars of the show were and kept their remarks brief.
Hannah-Jones, who spoke for less than three minutes, argued that "our children should not have to play the academic Hunger Games for a handful of good, well-resourced schools." She was alluding, in part, to New York's selective high schools, the elite (and publicly-funded) schools that offer only 10% of their seats to black and Latino students, despite the fact that they make up nearly 70% of the students in the system. "I don't believe we should have specialized high schools," she said.
Hannah-Jones is well aware of the unpopularity of this opinion in privileged circles, so she challenged the audience to look at things this way: "Clearly, we are not Trump country. We are a liberal, progressive, Democratic city"—and here, she paused—"who acts in ways like the people who we say we are not like."
"This system is immoral," she went on. "And those of us who take our unjust share of it are immoral as well."
Hannah-Jones then joined Theoharris, Treschan, and three of the teens: Rhum, Muhammad Deen, and Yousof Abdelreheem. They formed a panel of "student experts" and "adult experts," moderated by Ndiaye.
Several folks noted that school integration benefits all students, including white and affluent students. But, Hannah-Jones added, while "white kids benefit a great deal from being around black and brown kids, the quality of their education is not dependent upon it. And that's the difference. The quality of the education of black and brown kids is dependent upon it," because "we've never untied resources from race," which is to say, "segregation benefits white people in terms of resources, and it disadvantages black and brown kids in terms of resources."
She reminded the audience that "segregation and inequality are systemic, but they're also upheld by our everyday choices." What progressive white parents should really be pushing for, Hannah-Jones argued, is schools that reflect the makeup of the wider system: about 15% white, 16% Asian, one-quarter black, and the rest Latinx. "That would be an integrated school. And that would allow all kids to experience what you guys make sure your own kids do."
The teens ended the evening by explaining their policy recommendations for enrollment equity, which include the mayor's proposal to admit the top 7% of students in every middle school to the city's specialized high schools. (Though it should be noted that these teens claim it was their idea before the mayor adopted it.) They also rolled out a larger policy platform that calls for racial integration, equitable resource allocation, and greater transparency, among other things.
Meanwhile, also last night, over in Manhattan's District 2, a far less diverse room full of parents was voicing strong opposition to the 7% plan. "I wish these two groups could have been in the same room," Hannah-Jones tweeted this morning, "so that the progressive parents arguing their already advantaged kids deserve exclusive access to the best public high schools in the city could look the children they would deny this same privilege to in the eyes."