The Stunning Kings Theatre Returns: Thousands Attend Historic Venue's Sold-Out Diana Ross Show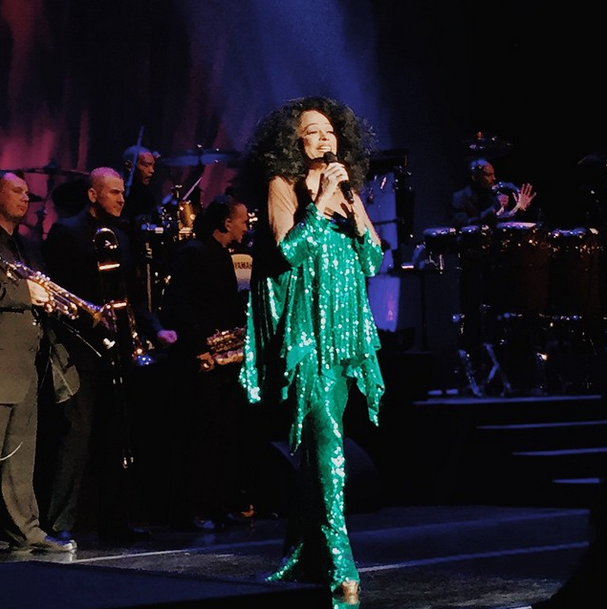 When Diana Ross comes to your neighborhood, everyone knows.
"You goin' to see Diana, baby?" yells a woman standing outside an apartment building en route to the Kings Theatre.
When I nod, she pumps her hand in the air. "You tell her I say hi – you do that for me?"
I smile and nod again, and she gives a "woop!" of approval.
Navigating the patches of ice and snow and all things winter crowding the sidewalk, I walk down Albemarle Road towards Flatbush Avenue – and before I've even hit the avenue, I see the moving spotlights beaming from a theatre that, for the first time in nearly four decades, is about play host to a public that, for years, has waited for this reopening of  a historic venue that first flung open its gilded doors to  much pomp and circumstance at the tail end of the country's Jazz Age in 1929 and shuttered in 1977 because of a lack of attendance.
The people – those walking from subway stops, the ones exiting giant tour buses, those in pink faux fur jackets and stilettos and sequined hats emblazoned with 'Diana' – they are excited. They are waving pictures of Diana. They are singing, "Oh baby love, my baby love." They are taking many group photos in front of the marquee that reads: Diana Ross, grand reopening, Feb 3, sold out.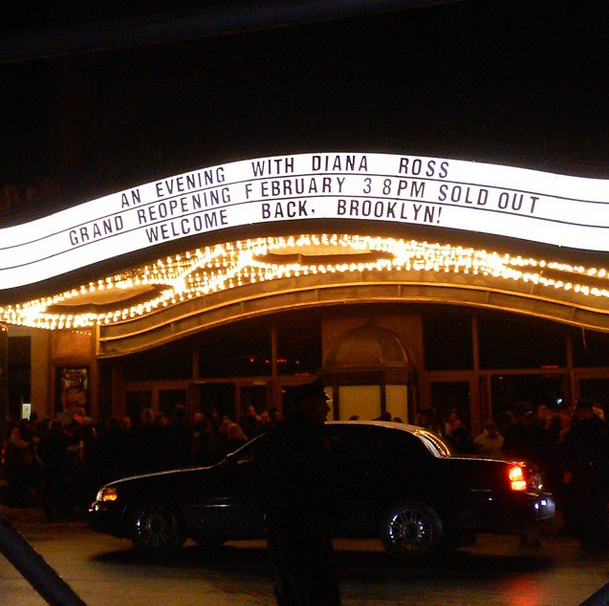 Of the more than 3,000 people who come to the show, some live blocks from the theatre at 1027 Flatbush Avenue ("no tour bus for me, let's take a moment to thank God for that, huh?" one woman tells me); others are from Miami and Iowa City and Los Angeles – former Brooklynites who are returning home.
"I lived here from 1975 to 1995, and I've always loved this theatre," says George Neary, who traveled from his home in Miami specifically for the grand opening. "I never had the opportunity to see inside of it, and it's been a dream of mine to see this theatre."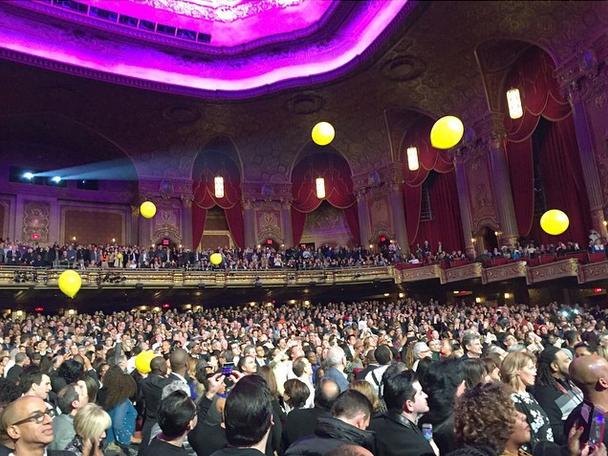 Accompanied by a group of friends, Donna Chin, who has lived in the neighborhood for more than 40 years, takes a look around the front of the theatre, where the massive crowd is waiting to make its way through metal detectors, and says, "it's good to be back."
"The last time I was here, I was 14," Donna says. "And now I'm middle aged… This theatre is going to be fabulous for the neighborhood. It's the Brooklyn renaissance."
I overhear that phrase – Brooklyn renaissance – several times throughout the evening, and many elected officials and other community leaders, from former Borough President Marty Markowitz (who spearheaded efforts to save the stunning space – and had his first date in the balcony of the Kings Theatre) to the recently elected Assemblywoman Rodneyse Bichotte have, in recent weeks (namely at the ribbon cutting ceremony), said the same of the venue that just underwent a massive $95 million renovation project to reopen much as it looked when the space debuted in September 1929, a little more than a month before the stock market crashed and the country plunged into the Great Depression.
As one woman, Karyn Charles, who has lived in the neighborhood for "a lot of years – that's all you need to know," tells me: the theatre, with its soaring ceilings and 1,800-pound chandeliers meant to evoke the Palace of Versailles and the Paris Opera House,  is reminiscent of bygone opulent era – but, having closed because of low attendance at a time when the city was hemorrhaging residents, it is also a reminder that grandeur alone is not the sole saving grace of a community.
"This is going to mean good things for us, but it has to come along with other stuff, like better transportation and more help for our businesses here," Karyn says. "This theatre is amazing, but we need to figure out how to make sure the people around here who are in need get to benefit from this."
As for the space itself, people are gawking at it. They are buying beer and whiskey, and they, the thousands of them, are shedding their coats in the coat room so they can walk, drink in hand, and stare at a space that, just two years ago, was a sea of mold and destruction, its once glorious rooms ravaged by water and vandals who had managed to steal almost anything of value – save for the chandeliers that, at 1,800 pounds each, were far too heavy for even the most cunning thief to manage.
Now, after historical renovation work by Martinez+Johnson Architecture, EverGreene Architectural Arts, and Gilbane Building Company, this theatre, one of the five Loew's "wonder theatres" built in New York and New Jersey in the 1920s, is a sight to see. With its 1920s aesthetic sensibilities, but 2015 tech savvy, the venue is expected to host a couple hundred performances a year, offering a wide range of acts meant to cater to a diverse crowd, from Disney and reggae performances to Sufjan Stevens and Frankie Valli.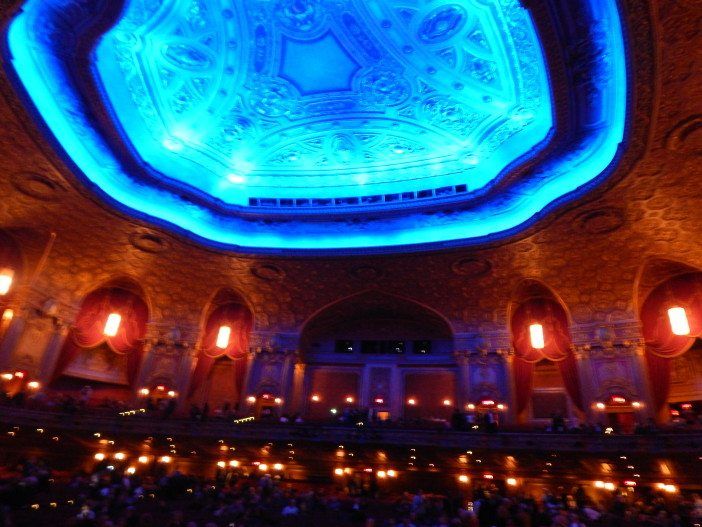 Which brings me to the woman of the hour: Diana Ross.
Upon the theatre announcing in December that the Motown legend would perform the inaugural concert, countless neighbors – and former neighbors – have been talking to us about it. We've gotten many an email from ex-Brooklynites living in exile across the country – retirees in Florida, an actor in Minneapolis, a mother in Los Angeles – who all essentially say the same thing: this theatre, a land where people could, for a couple hours, escape the Great Depression and World War II into a world where Shirley Temple and Vivien Leigh reigned supreme, deserved an opening party filled with the glitter and the shine and the dancing and the roaring crowd that Diana Ross could most certainly bring.
And bring she does.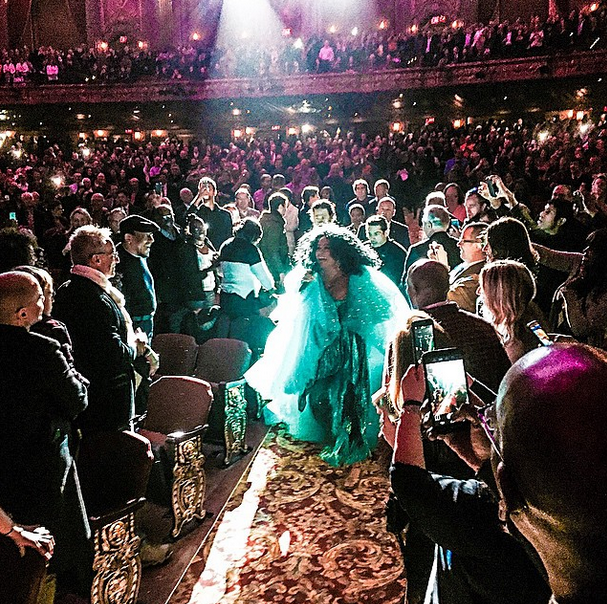 "I'm coming out – I want the world to know," Diana's voice appears from the back of the theatre's 3,200-seat auditorium (making it the fourth largest theater in New York) and the crowd immediately goes wild – leaping from the seats, hands in the air, everyone belting along to the song – as this Motown legend, wrapped in a mountain of blue sequins, passes us by to the stunningly massive stage that manages to dwarf even her.
The performance is just as brilliantly over-the-top as the theatre, with shooting stars and beaming lights and giant, wall-sized photos of a young Diana Ross flashing behind the singer, who goes through five outfit changes throughout the evening, each sequined extravaganza receiving cheers from a crowd that, for most of the concert, remains in a perpetual frenzy of dancing, cheering and laughing.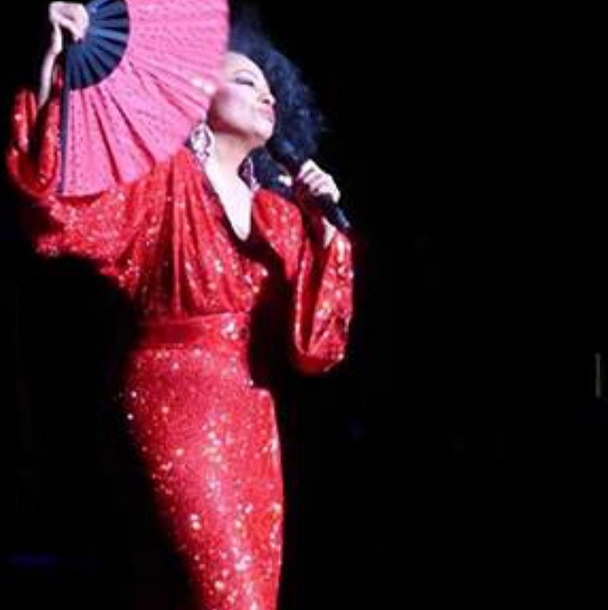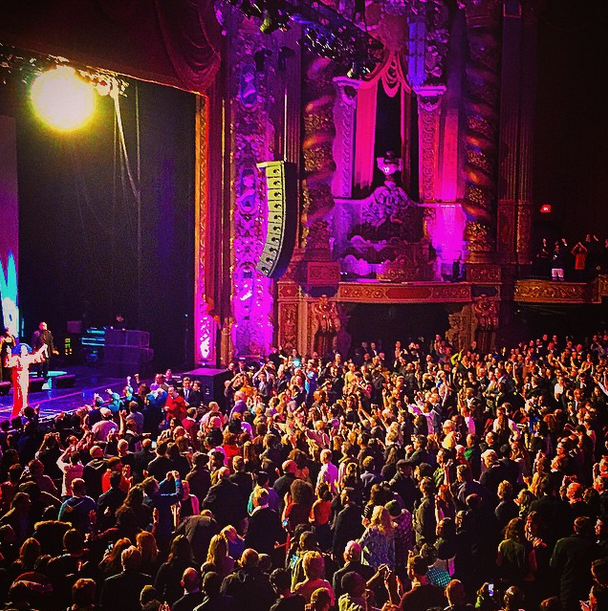 At a Diana Ross concert, everyone knows the words. And everyone dances, arms up, as Diana, backed by an entourage of dancers, drummers, a pianist, sax players, trumpeters, and more, blows the audience kisses and sings the songs that have woven themselves into our cultural language for decades: "My World Is Empty Without You," "Baby Love," "More Today Than Yesterday," "Stop! In The Name Of Love," "You Can't Hurry Love," and many more.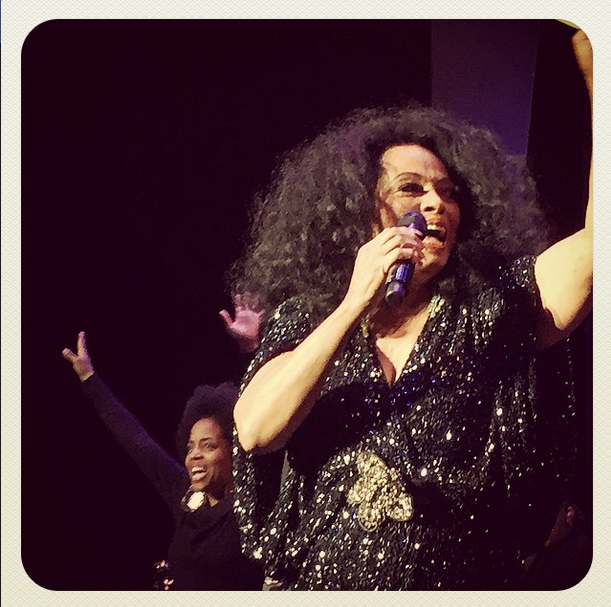 As she sings "I Will Survive," Diana starts talking to the crowd.
"Isn't this palace beautiful?" she asks, receiving one of the evening's largest roars from the audience. "This palace – this beautiful, beautiful palace. I feel like a queen."
In front of me, a woman excitedly leans over to her friend and says: "Do you think she planned that? She knows this theatre survived!"