Salazar Meets Fellow Jews of Color After Twitter-storm
BUSHWICK – New York State Senate hopeful Julia Salazar [North Brooklyn 18th District] (27) focused on their shared identity while claiming her Jewishness is not central to the campaign at a meet-and-greet this Wednesday afternoon, August 29, in Bushwick.
"It's shocking and disappointing to have your Judaism scrutinized," Salazar told the dozen or so members of Jewish Vote, identifying as Jews of color, who attended the pre-canvassing meet-and-greet. Adding that she was happy to be around "people who affirm" her Judaism.
Salazar's primary challenge has been mired in controversy over her messy and inconsistent narrative surrounding her Jewish identity, which has anchored a national conversation about who is Jewish.  Armin Rosen's story in Tablet uncovering conflicting narratives about her background has "set Jewish twitter on fire" according to Haaretz columnist Alison Kaplan Sommer.
Calling the criticism "unfair scrutiny" Salazar claimed that her identity is "not what this campaign is about," before telling the room that "we can inspire other Jews of color".
"I think that identifying as a Jew of color is not politically advantageous, it is not something a lot of people can relate to," a friendly, smiley, and exhausted Salazar told Bklyner in a quick conversation between her talk and a quick exit.
Her comment on the political implications of her Judaism is at odds with Rosen's assertion. In his deep dive into Salazar's ethno-religious background he writes that "if she wins, her identity as a politically radical working-class Jewish immigrant will have helped", implying that Salazar's identification as a Jew is politically motivated.
Salazar claims her ancestors include Sephardic Jews. She told me that while her Jewish identity is "not important in the context of this race," generally "it is important that we have conversations about how we respond to complex Jewish narratives".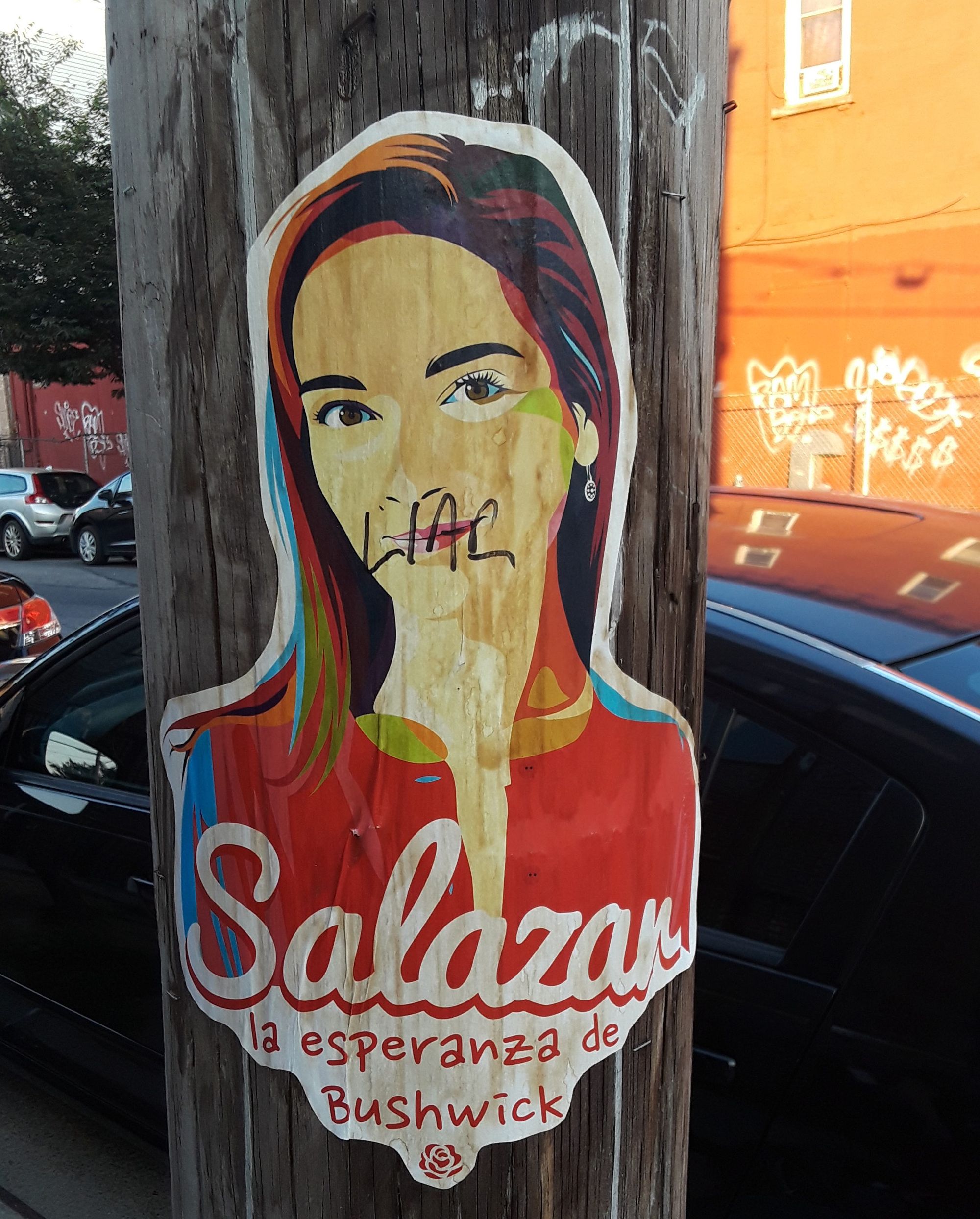 Others are welcoming the rare attention the Latin American Jewish experience is receiving. Ilan Stavans a Mexican-Jewish humanities professor who spent the past five years studying Jews in Latin America, explains that "far from anomalous, Salazar's amorphous Jewish identity is not untypical… dislocation, shame, and genealogical fog have been prime contributors to a muddying of the waters. Instead, Latin American Jews look at identity, including Jewish identity, as endlessly malleable –- just like Julia Salazar".
This is not the only accusation of misinformation on the part of Salazar's campaign. They have misstated that Salazar was born in Colombia-she was born in Miami.
Salazar's platform is reminiscent of fellow New-York Democratic Socialist Alexandria Ocasio Cortez's who has enthusiastically endorsed Salazar. She is calling for universal health care, criminal justice reform, and housing reform. Her stance on sex worker decriminalization has also garnered national attention.
As she heads into the final stretch of her September 13th challenge to long-time incumbent Martin Malave Dilan, Salazar wants to shift the focus away from her Jewish identity and to the issues.
"People are most interested in platform policy stances, record of advocacy in New York, and my relationships with partners and endorsing community organizations I have worked with locally".