It's Tea Time In Bed Stuy
BEDFORD STUYVESANT — These two entrepreneurs are "serving tea" in Brooklyn, but not the gossipy kind.
Amid a high-caffeinated corridor in Bedford Stuyvesant, steps away from the busiest train station in the borough, owners Ali Wright and Jamila McGill opened Brooklyn Tea a month ago. The tea room replaces Veggies Natural Juice Bar that closed last October.
The 800 sq. ft. space at 524 Nostrand Avenue is the outcome of "purposeful tea-hopping" that took the couple from South America to Ghana in search of tea culture. What they learned would become the tenets for their brick and mortar shop — great customer service, inviting decor and a mix of teas to satisfy anyone from long-time tea connoisseurs to Lipton tea lovers.
"We brought in the knowledge that the high-end tea shops were using, with the right [steeping] time and the right temperature for each of the specific teas, but we do it in a way that's not intimidating or pretentious," Wright said.
Tea drinking is a family tradition for Canarsie-born Wright, 37. The certified tea sommelier remembers serving the beverage to his mother as early as age 3. He and his partner in business and in life, McGill, 30, live in Crown Heights.
"We used to go tea-hopping instead of bar-hopping," Wright said. "It gave us a chance to be in an environment that's slower and more 'us' focused—and not drunk."
The two incorporated their business in 2016 and started their branding crusade with pop-up events the same year. Along the way, they took second place in the 2019 Brooklyn Public Library's PowerUp! Business Plan Competition – a contest that awards creators of new business models looking to set up shop in the borough. Brooklyn Tea, the retail store, came shortly after.
The couple source their teas from China, Japan, Sri Lanka, South Africa, Kenya and Taiwan. A year ago they began to wholesale their goods to retailers throughout the city, including Brooklyn's Lakou, Savvy Bistro and Bar and Island Pops.
Creme earl grey, vanilla rooibos and a blend of kyoto cherry and rose sencha are among the top sellers. The retail crowd can grab-and-go or opt to lounge in the white-walled contemporary tea room that seats 18.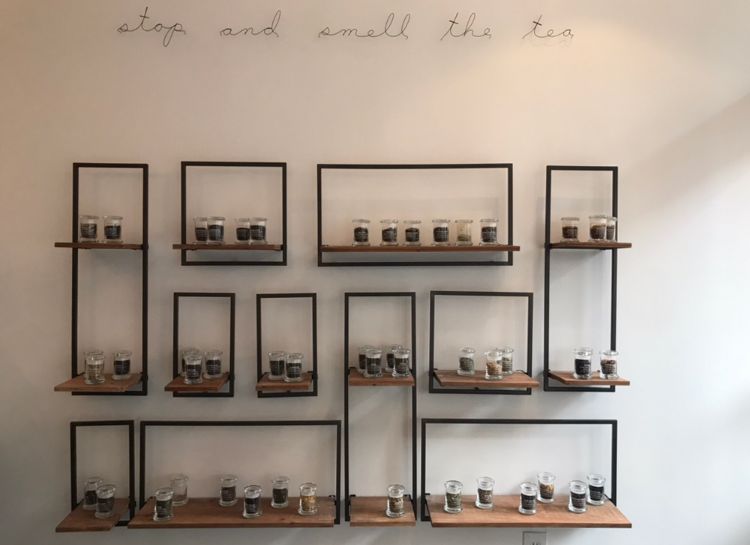 "We draw them in with the aesthetic and they stay because of the service," McGill said.
The light and airy retail space features a tea bar, a smelling wall and a community reading nook. White stools flank bistro tables and there's a leatherette sofa at the front of the space if you'd prefer to sip tea and watch the Nostrand Avenue passersby. The couple welcomes freelancers looking for a tranquil work environment, and the large wooden farmer's table rivals any open-space work desk.
You can buy 1-, 2- and 3-ounce packets of your favorite flavors. The Brooklyn Tea tin can is available for larger purchases. They offer free samples every day for those in between teas.
Why Tea?
The couple said they want to offer an alternative beverage to sugary sports drinks or sodas already in the area. The chill vibe of the tea room suggests a different story as Birocratic's "Leaving Her Flowers" plays throughout the room.
"It gives people the opportunity to pause, to commune, become self-aware," said McGill.
Brooklyn Tea store hours are as follows:
Monday – Thursday: 7am – 7pm
Friday – Saturday: 7am – 7:30pm
Sunday – 8am – 7pm