Coffee Shop's Restroom Sign Brews Controversy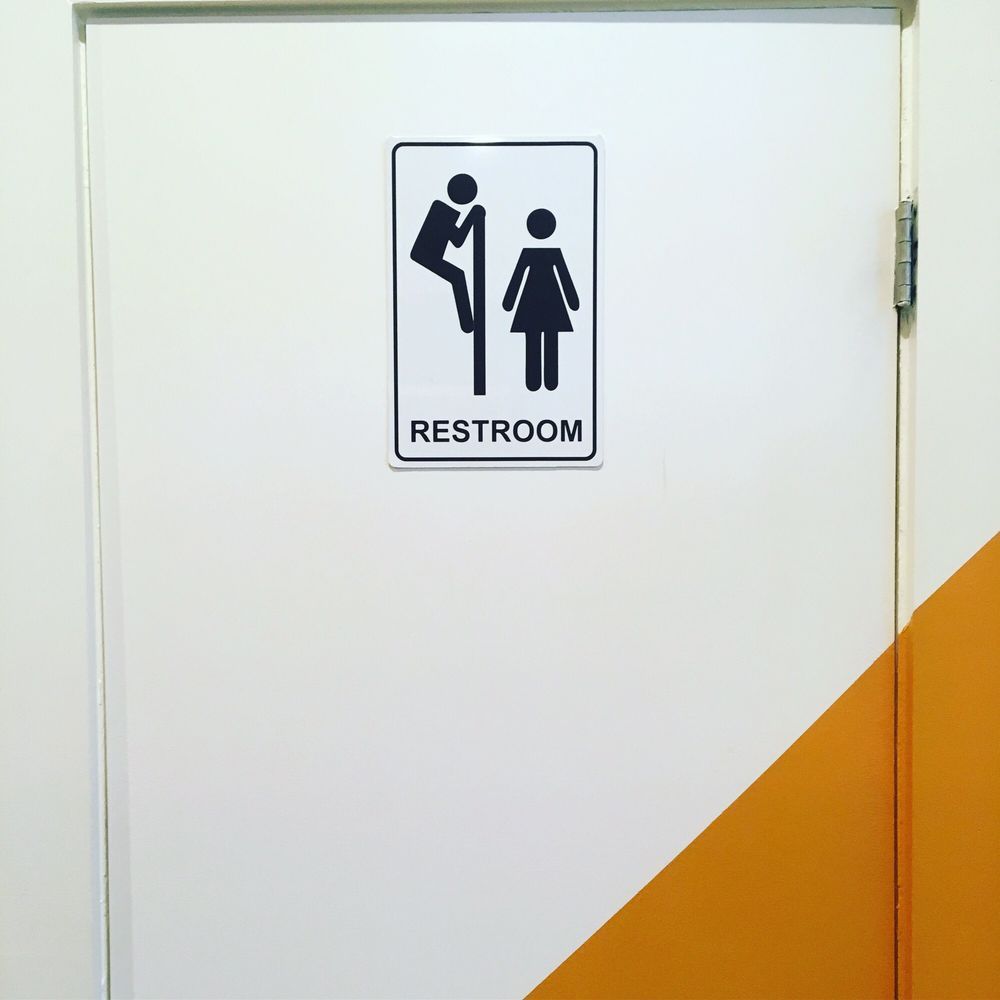 A coffee shop's restroom sign has incited controversy in Park Slope.
Clever Blend, which opened up in the former Gorilla Coffee space at 97 5th Avenue in April, previously had a sign on its restroom door depicting a figure peering over the wall of a restroom stall, spying on female figure on the other side.
The sign outraged a group of neighbors who asked shop owners Luca Tesconi and Andrea Alimonta to remove it right away. A Park Slope resident told BKLYNER that several people found that the sign promoted violence against women, stating, "It's incredibly creepy, and despite many people calling them out on this, the owners refuse to acknowledge any problem with the sign and refuse to take it down."
Tesconi says during the chaos of construction and trying to open up his new café that he "just Googled 'funny toilet sign' and purchased the first product [he] found without putting much thought into the choice."
Tesconi ultimately took the sign down over the weekend and replaced it with a temporary "Inclusive Restroom" sign. A permanent replacement sign has been ordered and will be installed soon, he tells BKLYNER.
"The peeping tom has been covered with a ‎gender neutral sign," Tesconi says. "I wish I had thought to put that up during construction but I was so caught up working 12-14 hours a day."
The café had received many angry emails and a string of negative Yelp reviews in response to the original sign. Tesconi says he was "cursed and threatened" online, adding "that's not the way to make a point."
He insists if upset customers had told him that the original sign could be "interpreted as condoning rape" and simply pointed out his "mistake," he would have gladly "engaged in a proactive conversation and dealt with it appropriately."
Instead, he says, "a small group of extreme people attacked me, cursed me and threatened my person and my business." He adds, "I'm not perfect, but people that know me ‎can tell you I'm a passionate, fair person. I have values I stand by and work really hard."
Tesconi says the shop has also received "positive support from all genders," adding that supporters "know and understand that we are NOT misogynist as##ol#* that would actually open a business with the intention of offending women and promoting rape.‎"
According to the same Park Slope resident who contacted BKLYNER about the restroom sign, another offensive item in the shop is a "map of the secession of southern states on their wall. This is a hateful reminder of the legacy of racism and slavery that this country was founded on."
The large map hangs on the wall behind the shop's counter. Tesconi told Eater that the historical map is displayed to remind us during "turbulent times that we shouldn't take our freedom for granted."