Bite Of The Day: Brunch At Hunger Pang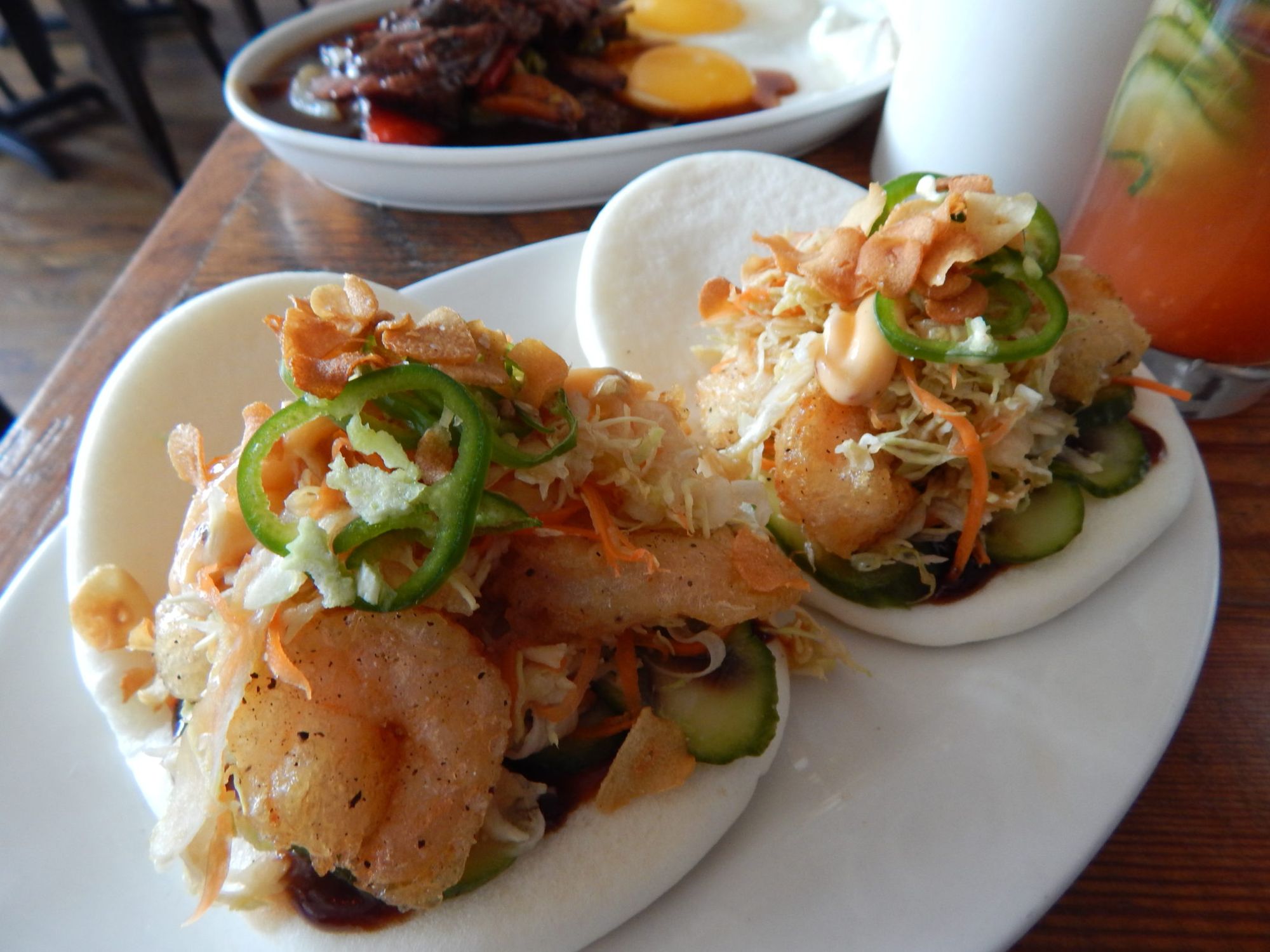 We've been wanting to try the brunch at Hunger Pang ever since its owner, Chef Medwin Pang, began offering it several weeks ago – and this past Sunday, we wrapped ourselves in layer upon layer in some kind of futile effort to harbor ourselves from the brutality of winter and made our way to the relatively new restaurant at 1021 Church Avenue.
We got there on the later side, around 2pm (brunch is served from 11am-3pm Saturday and Sunday), which meant that while there were other diners there, we didn't have to wait for a table – a welcome thing when your one-track mind is focused on all things food.
As we were sitting down, a couple was leaving, and Medwin emerged from the kitchen to say goodbye to them and welcome us – something we notice the longtime chef (he previously worked under such chefs as "Iron Chef" Masaharu Morimoto at NOBU and the 3 Michelin Star Chef Jean Louis Palladin) routinely does with his customers at the restaurant that's located not far from where he grew up in Kensington, and where he lives now with his wife and Hunger Pang co-owner Karen Do and their two dogs, Mochi and Tyler.
The regular brunch menu (which Medwin let us know will be changing around mid-March) ranges in price and size – which means if your stomach is rumbling pretty loudly and you don't mind paying a little more, there's the pepper steak and eggs ($15), or if you're feeling like something lighter there's sticky rice with chicken confit, Chinese sausage and peanuts ($7), as well as a number of other items, which you can see below: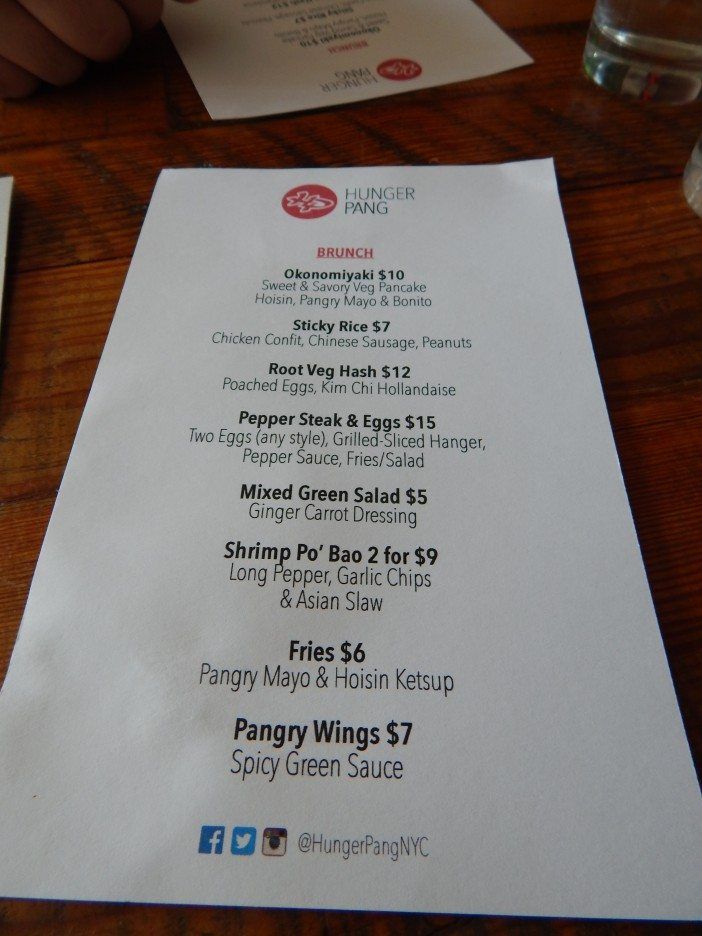 We started off with one of the specials, shishito peppers ($6) – which our waiter and Medwin described to us as "roulette peppers."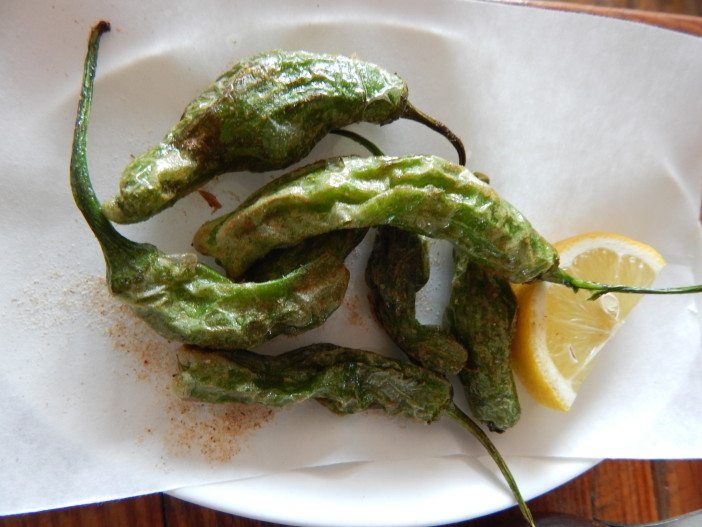 "There's like a one in 10 chance of getting a hot one," Medwin said as we dove into the peppers that were delicious – crunchy and on the spicy side, but fate must have had our backs that day because no tears from hot peppers were shed.
I also tried out the bloody geisha ($7) – a variation on, of course, a bloody mary that includes sake – and it was dangerously good. While I only had one, I'd be lying if I said it didn't cross my mind to convince Medwin to let us spend our day doing nothing but drinking bloody geishas and avoid ever having to enter the world of winter again.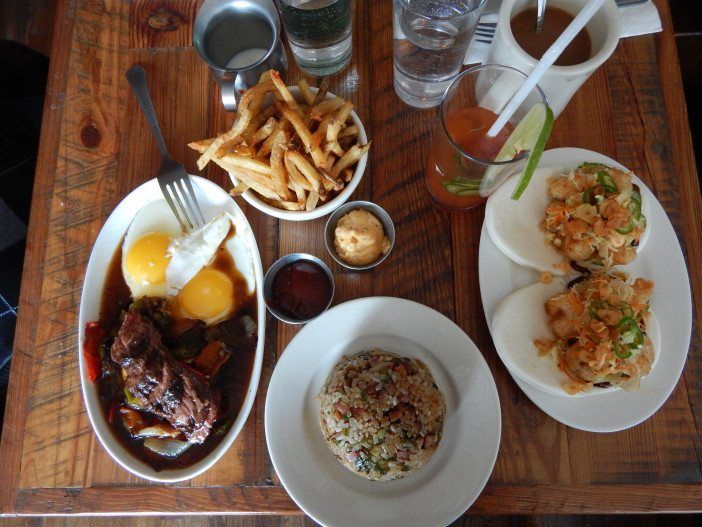 After the shishito peppers came our sticky rice with chicken confit, pepper steak and eggs, and the po bao (two for $9), one of the most popular items on the brunch menu, Medwin told us – and it was easy to see why. Everything was fresh and tasty – but the po bao (a variation on the po' boy that includes long pepper, garlic chips and Asian slaw) was, hands down, our favorite.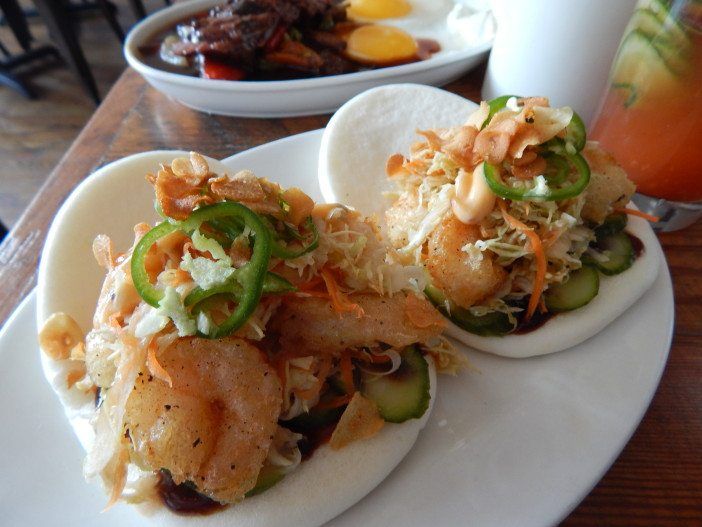 We definitely managed to finish everything, but we were hands-on-our-stomach stuffed at the end of the meal – just one of those entrées would've done the job of sending us into brunch bliss.
There's no doubt we'll be returning to Hunger Pang for brunch – we especially have our eye on that okonomiyaki (a sweet and savory veggie pancake with hoisin, the chile-doused "Pangry mayo" and bonito).
Hunger Pang is located at 1021 Church Avenue. It is open for dinner on Tuesday through Thursday from 6pm-10pm, Friday from 6pm-11pm, and 5:30pm-10:30pm on Saturday and Sunday. It is open from 11am-3pm for brunch on Saturday and Sunday. The restaurant is closed on Monday.